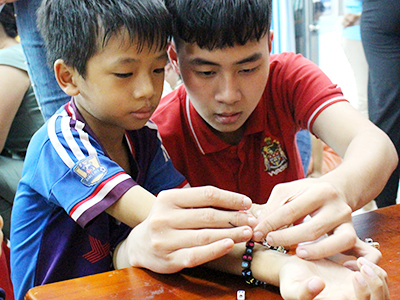 Christmas Fundraising Project: The value of sharing
Musician Trinh Cong Son once wrote:
"To live in this life, one needs a kind soul
For what, don't you know?
To spread it through the wind".
These are the humane and compassionate self-thoughts of musician Trinh towards life. This December, I and my friends at the Western Australian International School System (WASS) had a great chance to experience and further understand these messages, as well as learn life lesson of love spreading through the Christmas Charity Program.
Together, we organized activities to bring a warm and cozy Christmas to people in need. WASS students and teachers made our own crafting gifts, cards and did paintings for the fundraising Christmas auction. In addition to this, we mobilized everyone to donate items as well as cash for the volunteer trip to HCMC Oncology Hospital. Remarkably, we delivered well-rehearsed performances in the Christmas concert "A Joyful Melody" to join hands in raising fund for the community.
These meaningful charity activities nurture our conception of love, empathy and sharing. The trip to visit patients at HCMC Oncology Hospital aroused intense emotions within each of us. What we have learnt is that the power of simple acts of benevolence can't be underestimated; and that gestures of caring can put value to others' lives. They give them love and hope to undergo hardship and carry through.
The Christmas Charity Program at school helped me figure out the meaning of sharing, love and acquire a new perspective on life. I have read a sentence that goes: "The coldest place is not the North Pole, but where there is no love." Indeed, if we only live for ourselves, what's the sense of life then? It is never too late to share. There's always a mending pat, a healing hug or a curing touch to spare. A little loving and sharing make a big difference, so let's open our hearts to love and be loved.
Bui Vu Khoa – Student of Class 10A
WESTERN AUSTRALIAN INTERNATIONAL SCHOOL
If you have any concerns, please contact us.