Ever since its introduction in 1981, the International Day of Peace has been exposed to over a billion individuals worldwide through activities such as concerts or prayer groups; according to statistics, 10 million individuals have behaved more peacefully than normal, thereby improving the lives of thousands.

The Western Australian Primary and High School was one of the communities hoping to make the world a better place
It is human nature to start conflicts; whether it is because of power, tradition or vengeance, humans have sparked countless conflicts. Notable ones include World War II, the American Civil War or the Vietnam War, with over 65 million casualties. It is easy to see that peace isn't one of human beings greatest assets. . On the 21st of September, 2015, nearly all of the entire school wore blue outfits to raise awareness for the event. Each WAPers who wore a blue shirt contributed 10.000 vnd for a WAPS's charity fund which will be used for the brighter society. This special event increased awareness of the International Day of Peace amongst WAPS's students. The school showed a film which infromed the students of why the International Day of Peace started a long with activities which can help students bond with each other. Students from different classes share their ways to make peace, with each other, their families and society. "Love notes" were sent to friends, teachers and Parents from the heart.
Another special thing this year was that students used the most powerful means of communication today, social media, to further express their support of the International Day of Peace through Hashtag #makeachangewithwaps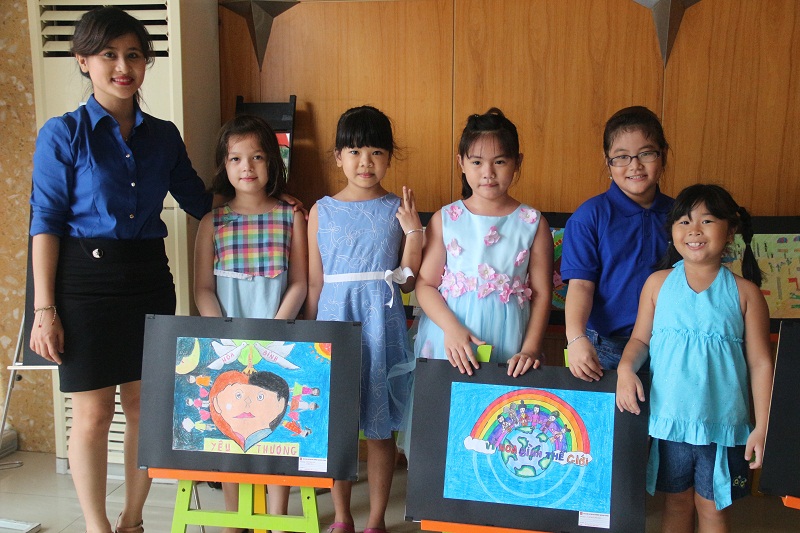 In Addition activities which supported towards the community were students competing in an art competition and exhibition where the creativity of students were encouraged. The power of Art, sometimes, changes the world. Hence, to express the desire of peace in their own private ways, students chose to draw their messages. To each student, Peace is simply not war but close-knit bond among family members, loved ones as well as support among friends in studying…
On this day also, accompanying the millions of global people, our WAPS community had one minute silence to support the campaign "One minutes of silence for peace" at 12pm. The importance of this day spread throughout this world: whether at home, at school, a country or all over the world. Friends wonder how we can disbutes, conflicts or wars? What will when houses, hospitals and schools are destroyed by weapons? Happiness? Absolutely not. It is true to say that violence is unacceptable. Therefore, wars need to be stopped. We should better care for, respect and make efforts to achieve the Peace to help our society.
Dang Quoc Gia Vinh – GRADE 10
Western Australian International School System
If you have any concerns, please contact us via: