WAPS students excel at the "Beautiful Handwriting" Festival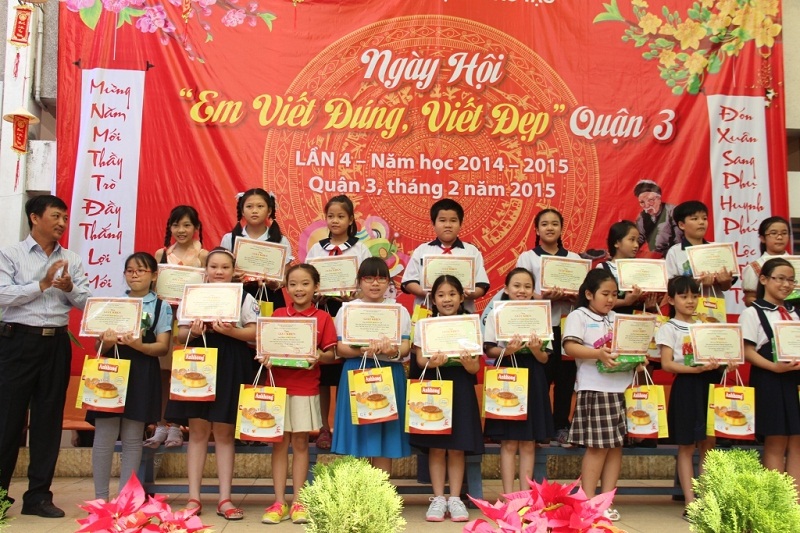 On the morning of February 7, 2015, Phan Dinh Phung Primary School and the Department of Education and Training organized an event called the "Beautiful Handwriting" Festival. 90 students from 24 different primary schools in District 3 participated.
This is the fourth time they celebrated the festival, in order to encourage children to practice their handwriting and preserve the beauty of the Vietnamese language. At the same time, the festival provides an opportunity for the different schools in the district to ge to know each other.
At the event, five students from WAPS received high results. They owe their success to their teachers' efforts at WAPS. Ms. Nguyệt, a third grade teacher, said: "We have worked two months with the students to practice and to give them confidence. They practiced both at school and at home. Furthermore, we have prepared cute little cards for the students so they can present their work." The students are well aware of the importance of their handwriting. They work hard because they do not want to disappoint their parents and teachers. Phan Thiên Thảo, a fifth grade student, said: "I usually practice at home, too, and two days prior to the festival I practice more in order to be prepared. When I arrived here, I was a little nervous, but I am going to do my best and make my parents and teachers happy / the people who have always supported, taught and cared for me. I think that handwriting is very important because it shows a person's character."
The "Beautiful Handwriting" Festival ended in a lively atmosphere. On this occasion, some students also received awards and presents to encourage them to practice their handwriting even more.
Here are some photos from the "Beautiful Handwriting" Festival on February 7, 2015 at Phan Dinh Phung Primary School:
An Nhien
Western Australian International School System
If you have any concerns, please contact us via: