How did I prepare for the World Scholar's Cup 2022?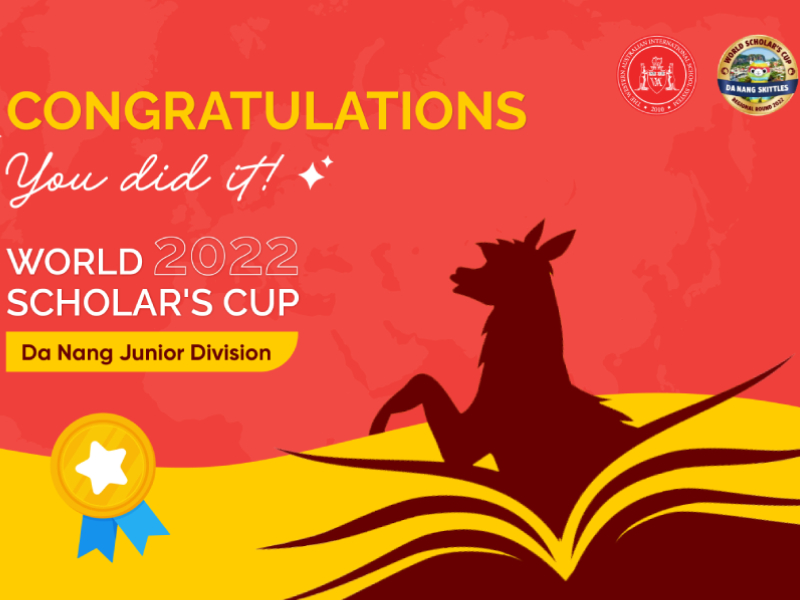 The academic year 2022-2023 has just started, but WASS has continuously received much good news as students achieved many successes at both domestic and international academic competitions, especially the incredible achievements at World Scholar's Cup 2022.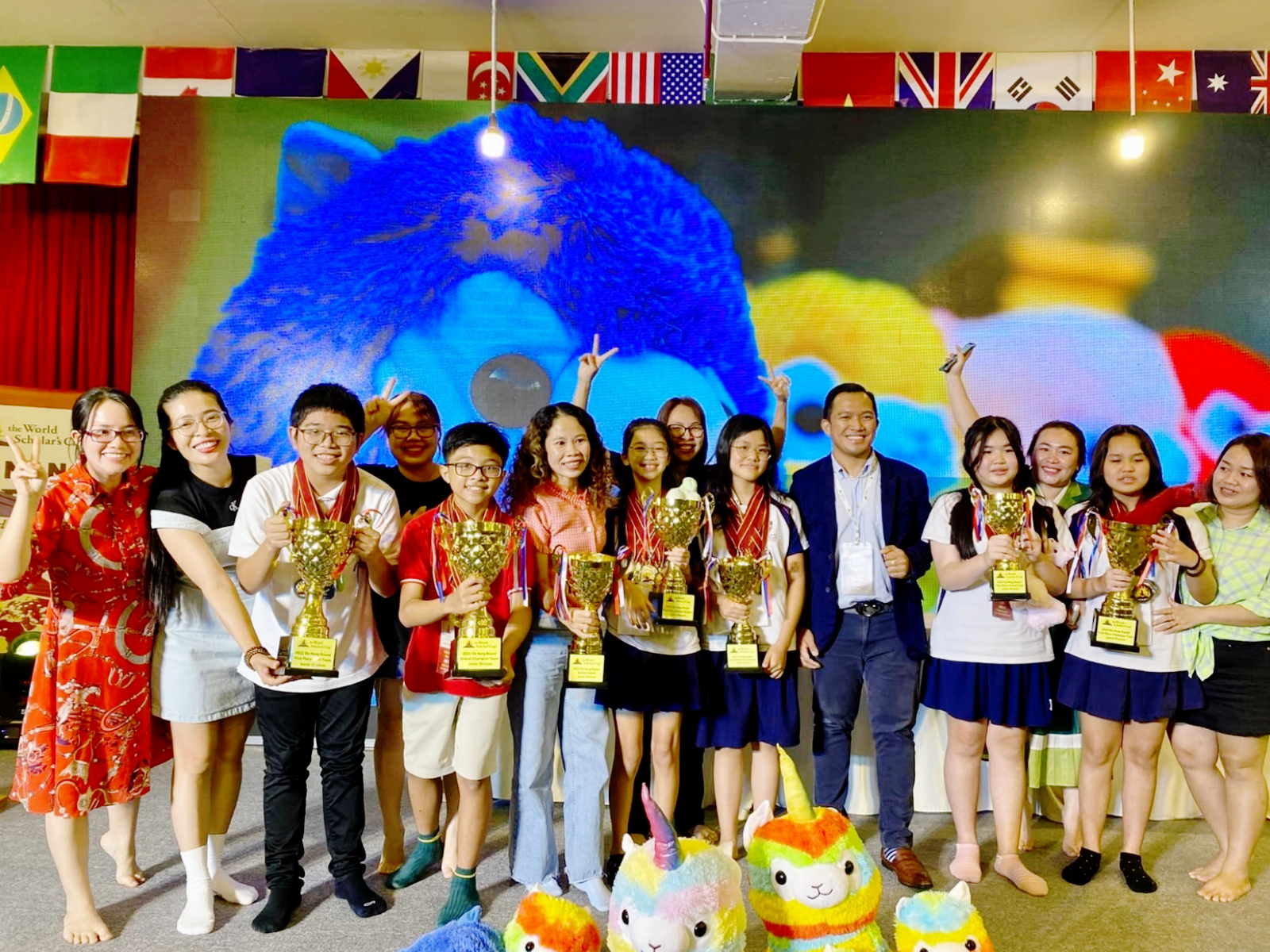 World Scholar's Cup (WSC) is an international academic competition which attracts thousands of students in over 60 countries around the world to participate in. It is an opportunity for students to express themselves and challenge their knowledge in various fields. The challenges of WSC are really difficult because it requires a comprehensive and extensive knowledge in many different areas of life.
In this year's competition, WASSers have shown their talents, knowledge, confidence and great effort to get outstanding achievements in both individual and team content in many categories. Moreover, 15 teams of WASS will officially participate in the Global Round to compete for places to attend the Final Round in the US.
 Following the successful Regional Round in HCMC, WASSer Phan Nhat Huy (BWA-8A) achieved many excellent awards at the WSC Regional Round in Da Nang in the Junior Division for Secondary students.
Winner – Team Challenge 

1st Junior Trophy – Team Bowl

2nd Junior Trophy – Champion Scholars

6 Gold Challenge Medals in 6 academic fields

3 Gold Medals and 1 Silver Medal in Debate and Writing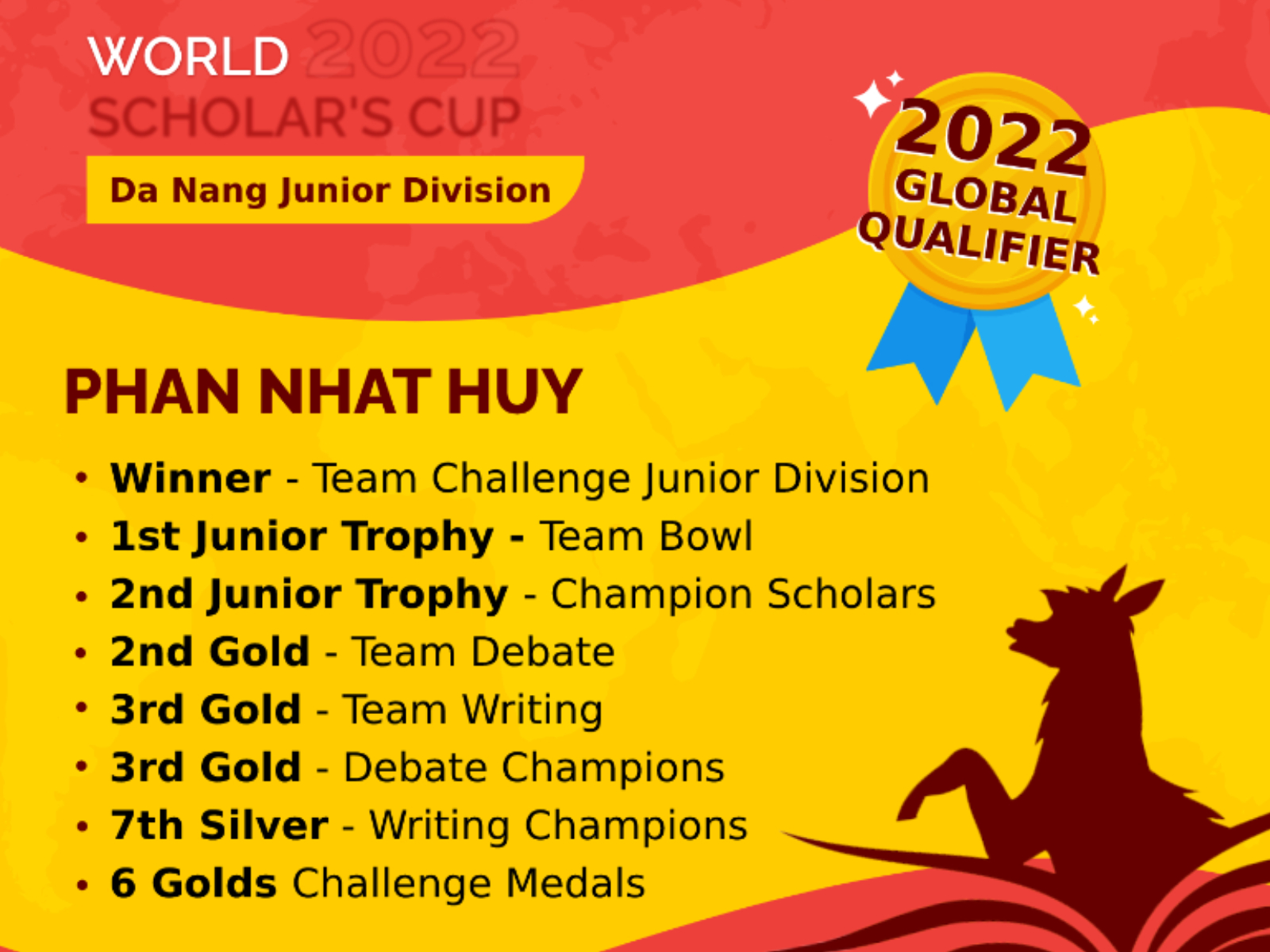 To be able to successfully conquer the prestigious WSC with many proud achievements, Nhat Huy had to make great efforts. Let's look back at his journey and emotions at the World Scholar's Cup 2022!
"For me, the journey at WSC 2022 was really impressive, challenging, but also meaningful and unforgettable. The first days of studying were really difficult because the exam subjects were unfamiliar to me. There were 6 different fields in the competition, so it's very hard. However, I didn't give up and tried my best.
During the competition, I got a lot of support from people around. In the Debating, we were guided by Chau Anh, a WASS former student. She gave us a lot of useful advice to debate better. Besides, the ingenious guidance of Ms. H, an experienced and enthusiastic coach, has helped us gain more knowledge as well as improve our team's debate level."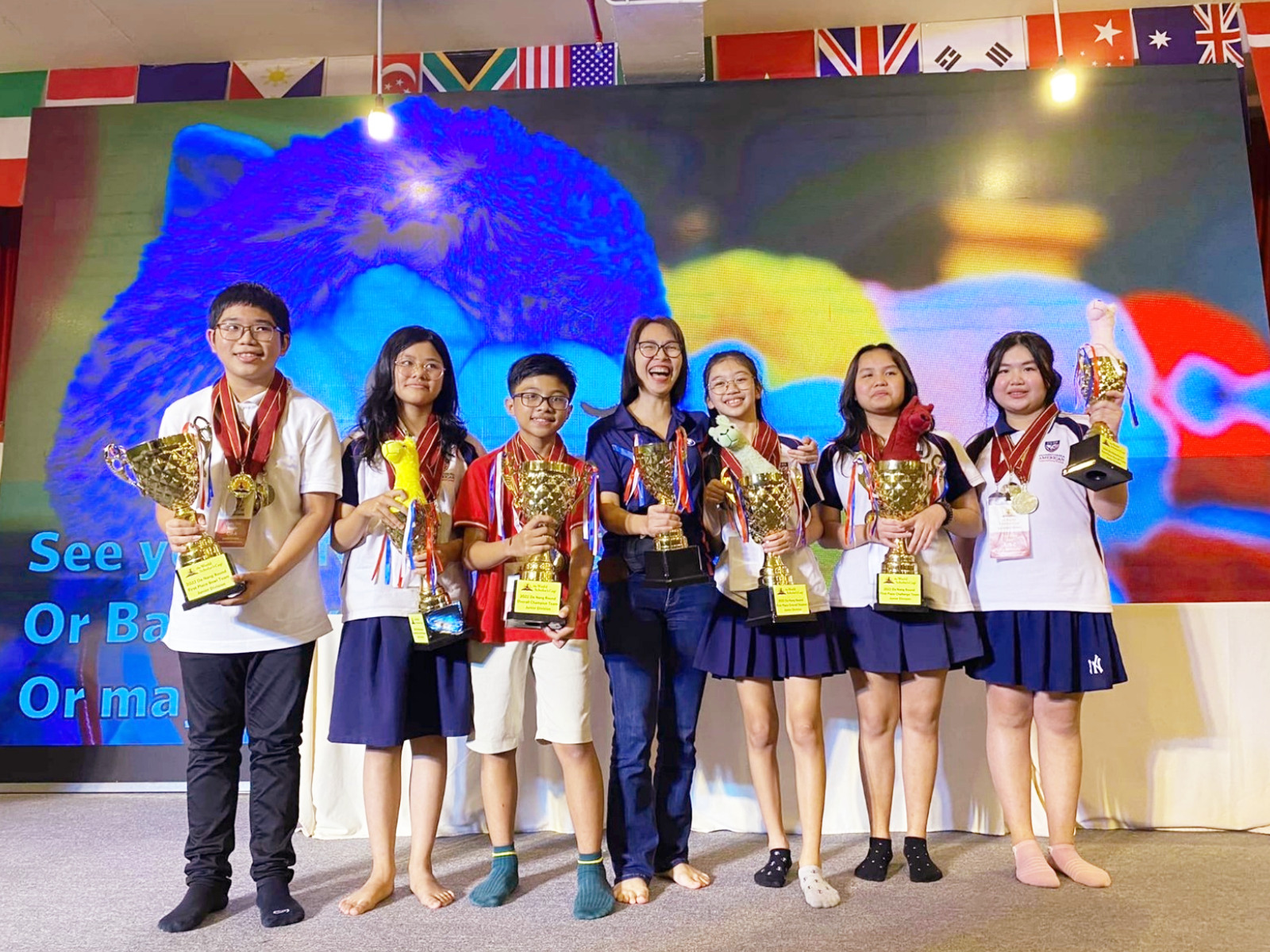 The glorious journey that Nhat Huy and his teammates passed is obviously not easy and full of roses. He has had to overcome many difficulties and challenges to reach those achievements.
"There were many times that I felt really tired, a few times falling asleep in the car or classroom because I was too focused on the competition. I almost ran out of ideas for the Debating. My team and I spent almost the entire summer studying for the WSC. Although we studied a lot, we still have our own ways to balance learning and relaxing. We learned by playing Kahoot, debated each other, listened to debate showcases or watched Team Bowl matches on YouTube and tried to answer those questions. We also wrote a diary to improve writing skills, grammar, and ideation skills.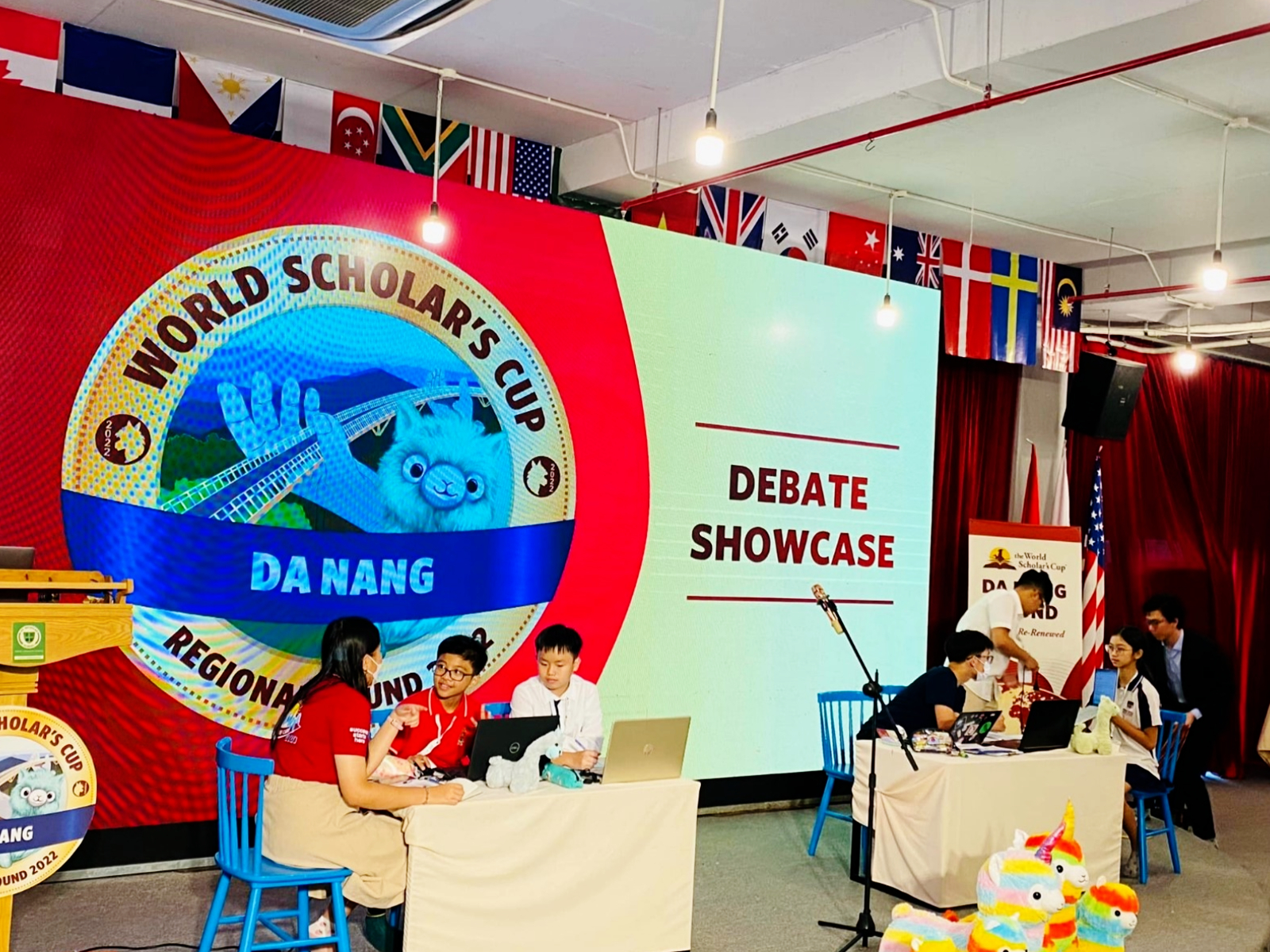 WSC brought me many valuable things such as useful knowledge, teamwork and solidarity. The exam sections were fun and interesting. It was not only boring questions, but also contained many exciting parts such as funny pictures and videos for participants to relax. If you want to have a giant Alpaca, you need to practice how to balance an object on your head.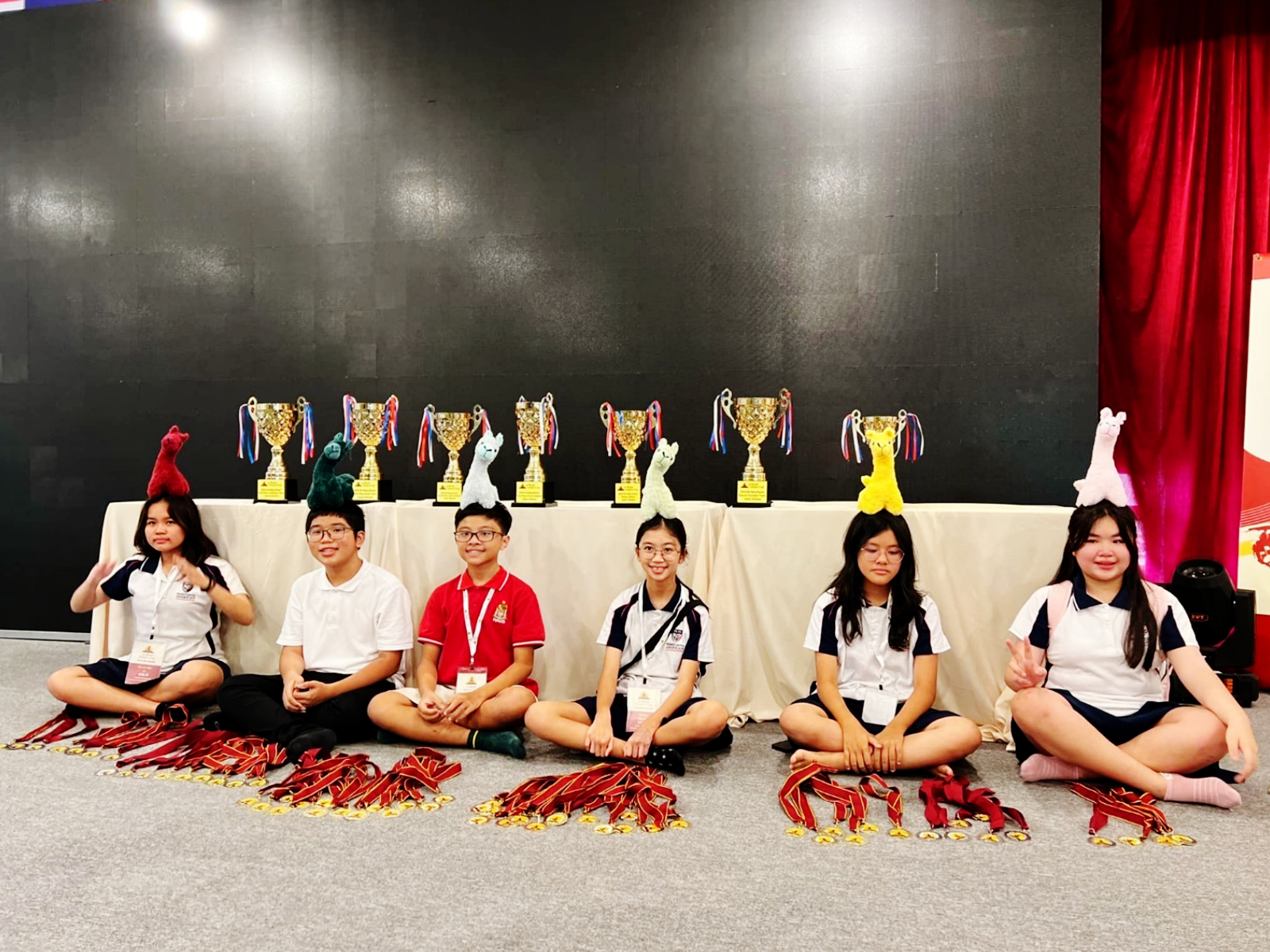 I would like to say thank you to my parents who invested, took care, and created the best conditions for me to practice and participate in this competition. Thank you to other parents for preparing food, and supporting us to pick up and drop off during the competition. I would like to send a special thank to Ms. H who guided us to find documents, reminded us when we were distracted, and always encouraged us to have the best preparation for the competition. In addition, there was the best support from Ms. Chau Anh even though she is in the US. And last but not least, the most sincere thanks to my amazing teammates, Bill Hannah. I can't achieve those awards without you. Thank you so much.
The journey ahead is waiting for us, and there is still a Global Round in the next month. I will do more tests, read more books, and learn more to prepare for the next round of WSC." – WASSer Phan Nhat Huy, BWA-8A.
Western Australian International School System
If you have any concerns, please contact us via: