E-newsletter of August, 2016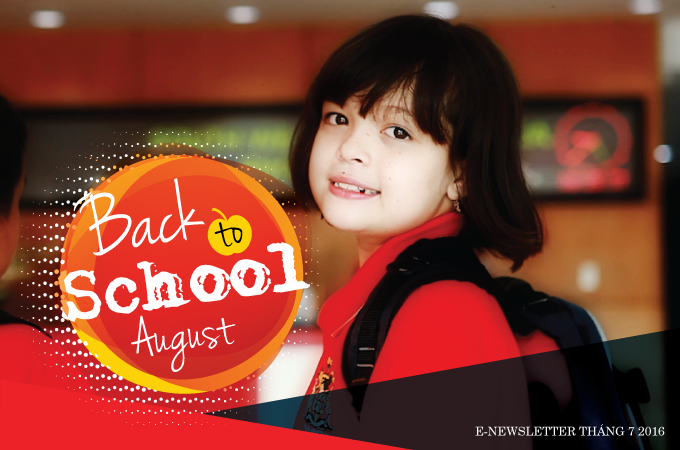 Dear Parents and students,
Welcome to the new school year 2016 – 2017 at the Western Australian International School System. The new school year is going to begin in the next few days and we are ready to present exciting and stimulating learning experiences to all our students.
This is our sixth year here at WASS, and we know that it promises to be filled with even more golden opportunities as WASS has had the school's International Baccalaureate Diploma Program Candidacy Application officially accepted by the IBDP. In addition, this new school year, we will commence our Pre-AP courses. The Advanced Placement (AP) program is an American curriculum recognized by universities in over 120 countries and will be taught over two years: Year 11 and Year 12.
In addition to formal studies, there will be plenty of fun and special times for students through a plethora of extracurricular clubs, activities, performing arts groups, and athletic teams and events that we will offer to encourage our young WASSers to be involved in the school life at WASS. Besides, we will continue to build upon and refine our education quality through the S.T.E.A.M educational ideal method. Grade 12 students will start their new school year from the beginning of July to make sure that they will be well-prepared for the last year of school. Moreover we will start teaching Robotics – one of the more remarkable subjects of this program will be added later this academic year. Robotics will give students a chance to widen their creativity, logical thinking and skills for both Technology and Engineering. In order to develop students' information and communication technology (ICT) capabilities, high-tech applications and methods will be implemented throughout this course.
This year, the Student Council which is organised by our WASSers, will be launched with the mission, on behalf of the WASS community, to give student's opportunities to organise events, and to actively contribute towards school improvements. In addition to this, clubs and after school activities will be also run by the "Student Potential Development Department" with Arts, Acoustic music, Dancing, English Club activities to name a few.
In this school year, besides welcoming more teachers and management staff to WASS, we're sorry to say goodbye to Ms. Nguyen Thi Ngoc Lan – our vice principal after we have worked together for 6 years. We are hoping that she will return again to WASS in May 2017 and look forward to welcoming her back to our team.
We look forward to a very positive and productive year together! Thus, we extend a special, 'yearlong' invitation to our parents to join us in all our school activities and events. We want, need and value your involvement as well as your support in your child's education. Your support and participation is highly valued as an important part that helps contribute to the success of our young WASSers during their school years.
Please note the following important information for the new school year:
The first school day: August 1st, 2016
Time schedule:

Kindergarten: 8:00 – 16:00
Primary and High school: 8:00 – 16:20
Uniforms and school books: Uniforms and books are issued at school before the new school year starts. To get more information, please see our notice in the school lobby or go to our official website: v3.wass.edu.vn.

Issuing time: 08:00 – 17:00 July 27nd – 31st, 2016
Location: Room 301, Primary and High School campus
Parent handbook: The handbook 2016 – 2017 will be issued to the parents during the period July 27nd – 31st This handbook provides general and detailed information about the school calendar, policies, rules and Board of Management at WASS.
Class schedule: During July 27nd – 31st, 2016, parents are invited to school to receive their child's uniform and books, parents will also be given   detail class schedules.
Club schedules: Details will be available from August 01st 2016 on our official website v3.wass.edu.vn. Club schedules and registration forms are attached to the students' diaries. Please have your child register before August 9th. These clubs will officially start from August 15th, 2016.
Parent conferences: Conference schedules will be given in the middle of August for grades 10, 11 and 12 and in September for grades 1 to 9. Please pay attention to the conference schedule in your handbook.
School buses: All details regarding time, nannies, drivers, and routes will be announced during July 26th – 28th The drivers and nannies will wear a school card as per school's rules.
Parent card: To ensure the student's safety, all parents entering to the school have to wear a parent card for the school year 2016 – 2017. Please provide us with two ID photos size 3x4cm before August 2nd Your card will be sent to you in the second week of August.
Boarding school students

Time to pick up: 13:00 July 31st, 2016
Location: 17/1A Ho Van Hue street, ward 9, Phu Nhuan district, Ho Chi Minh City
Please confirm your arrival time via the following phone number: (08) 6290 5076 or hotline 0963 999 701
Items for the new school year

Water bottle: Water is always available on each floor. WASS also provides drinking cups for each student on the first day of the new school year. However, for convenience, WASS encourages students bring their own water bottles.
Backpack: WASS encourages parents to buy backpacks using the WASS designated form. Backpack and other personal items should be stamped with name labels to easily find the owner if items are misplaced or lost.
Vietnam curriculum (for bilingual program students). Similarly, students be need to prepare notebooks and learning tools.
Cash and valuable items

Students should not carry cash and valuable personal electronic devices such as mobile phones, MP3 players, iPods, CDs and video game devices to school.
The school will not be responsible for loss of money or for any electronic equipment that is lost.
Going to school by themselves: To ensure the safety of students, please inform the school in the following cases before July 31st, 2016: your child will go to school by themselves; your child is picked up by someone else (not the parents or guardian registered in the application form).
Opening ceremony

Time: 8:00 AM on 6th August, 2016
Location: 272 Convention Center – 272 Vo Thi Sau street, Ward 7, District 3, HCMC
Opening ceremony invitation cards will be sent to parents in the last week of July. Please have your child arrive on time to participate in the performances and musical activities.
Contact: Parents may contact the following departments to be consulted more details:
Office Department
+ For admission information, tuition fees, absences, school calendar, school services, schoolbooks, uniforms, forms and regulations:
+ Phone: (08) 6290 5077 ext 101 – 105
+ Hotline: 0963 999 701
+ Email: office@wass.local
Student Development Department
+ For: Extracurricular activities, clubs, picnics, development of skills, character and students' aptitude at school.
+ Phone: (08) 6290 5077 ext 109
+ Hotline: 0963 999 702
+ Email: spdp@wass.local
Academic Department
+ For subjects, curriculum, transcripts, and school reports.
+ Phone: (08) 6290 5077 ext 106 – 107
+ Hotline: 0963 999 703
+ Email: academic@wass.local
Board of Directors Department
+ For school policies, curriculum, and teachers.
+ Phone: (08) 6290 5077 ext 108
+ Email: principal@wass.local
Best regards,
Christopher Poole Johnson
Academic Director
© 2016 THE WESTERN AUSTRALIAN INTERNATIONAL SCHOOL SYSTEM
Western Australian International School System
If you have any concerns, please contact us via: