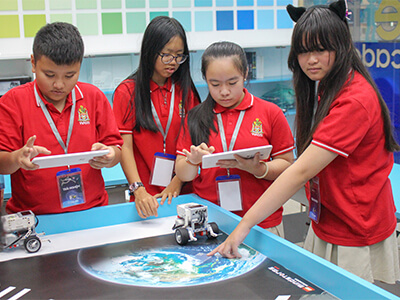 A visit to the library S. Hub Kids with many interesting discoveries
I read a wonderful quote in the Reading Week of WASS: "Library is a treasure, which contains spirit and quintessence of human being" (G. V. Leibniz) and remarkably, the school has recently given me a chance to visit the most modern library that I have ever known. It is S. Hub Kids – the monumental library of the great Consulate of the United States in Ho Chi Minh City.
When entering S. Hub Kids, I was really surprised at seeing the huge library, which is full of several attractive books with different subjects. Furthermore, it is beautifully decorated in a modern style. I can feel delicateness and creativeness everywhere.
I had a chance to experience exciting activities like STEAM, exploring astronomy, doing craft, and viewing images with virtual reality glasses. Every single activity was really useful to me. Thanks to STEAM, I was absorbed in logical thinking. Moreover, owing to astronomy, I could explore the universe. Also, there were many fascinating discoveries when I did craft. What impressed me most was viewing visual reality glasses because it brought me striking pictures. I thought I was in the films which have beautiful landscapes.
Due to the time limit, I could not discover all about S.Hub Kids. However, this trip really made deep impression on me. I was grateful to my teachers for giving me sweet memories with my friends. I will spend more time reading books and applying what I have learnt into my life.
Tran Khanh Thy – 7B
WESTERN AUSTRALIAN INTERNATIONAL SCHOOL
If you have any concerns, please contact us.