Some understanding of the International high school program in HCMC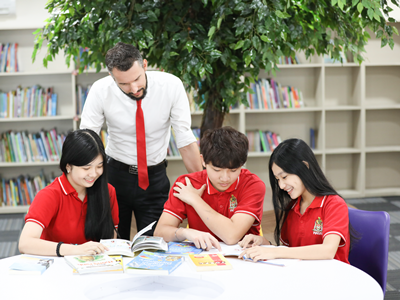 There are a number of opinions suggesting that studying at an international high school is unnecessary, because the  Vietnamese program provides a good foundation in english which is at the level for students to study abroad. Moreover, there is a suggestion that  international high school curriculums put unnecessary pressure on students. There are those that think these thoughts are not valid
Why students should study an international high school program
Some evidence exists that  the Vietnamese high school diploma is not recognized by some international universities in the UK, USA or Canada. Students must take a competency assessment (SAT, ACT) to apply for admission.  Studying in an international high school program offers students the chance to study at an internationally recognised level..
In addition, studying an international high school program helps students build and develop skills and knowledge. Students can adapt to an environment as well as an international curriculum compared to reviewing and passing SAT or ACT exams.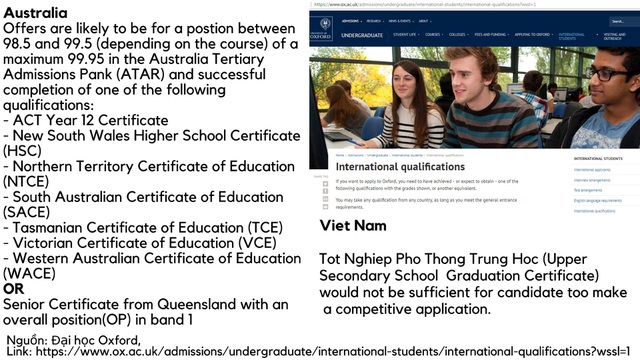 Oxford University entry requirements for Australian and Vietnamese qualifications
(Sources: Oxford University)
What students need to do to study an international high school program in HCMC?
International programs are programs whose qualifications are recognized around the world. It is built from independent international programs (IB, Cambridge) or advanced countries such as USA, UK, Australia, Canada, etc. To own an international high school diploma, students need to complete at least the last 2 years of high school with an appropriate curriculum. Academic results are converted into "standard" scores to apply to universities around the world.
Considerations when studying international high school in HCMC?
1. Choose an official international high school program
The International Baccalaureate Program is one of the officially recognized programs in the world. Besides, there are ADP baccalaureate programs and West Australia State Baccalaureate, awarded by the US and Australian Ministry of Education. Indeed, cooperation programs sometimes lead to many risks in the degree due to the lack of legitimacy.
2. Choose an international high school program that fits intention of student.
There are many subjects included in an international high school program. So students should choose subjects that are relevant to their industry and future orientation. This also helps students equip a solid foundation knowledge before entering the University environment.
3. Teaching methodology and teachers
At international schools, teachers are often very strictly selected. Degrees and certificates to teach international high school programs is required for any teachers. Moreover, Instructors must also receive regular professional training to keep up with the modern trends. Not only that, Teaching methods at international high schools are also very diverse and interesting. Usually, in addition to knowledge lessons, students also participate in practical projects to reinforce the skills and knowledge they have learned.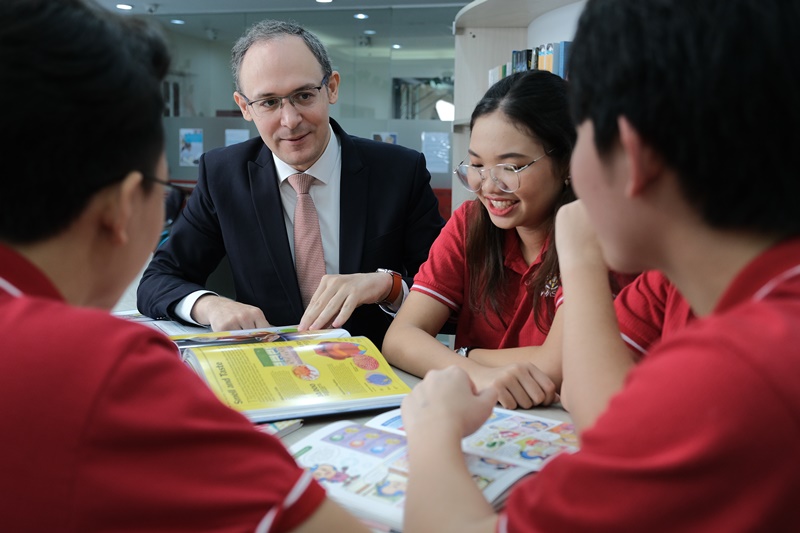 Read more: Should parents choose The Western Australian School System for their children?
Qualified address of international high school program in HCMC
Currently, parents who seeking a qualified international high school program for their children can considerate Western Australia International School System (Ho Chi Minh City). The Western Australian Certificate of Education program (WACE) is a certificate that students will receive upon completion of Western Australia's general education program, a condition of transfer to leading universities in the world, including these belongs to IVY group of universities in UK and US.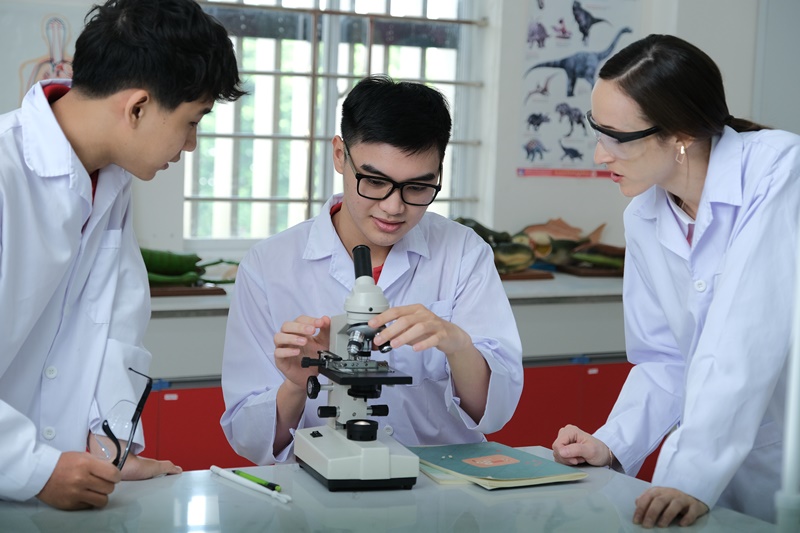 Students who receive the WACE certification have good command of English, good skills and confidence. This is also Ideal for students to prepare for the next level of study at top universities in the world.
Parents and students can find more information about the Western Australian Program here
In addition, WASS also provide and teaches other international high school programs in the coming year such as the International Baccalaureate Diploma Program and American Diploma Program. Students will have more options to choose from for the future educational goals.Parents wishing to consult please contact the school office number 028 7109 5077 or email: office@wass.local
Western Australian International School System
If you have any concerns, please contact us via: