What do students like about their primary school teachers?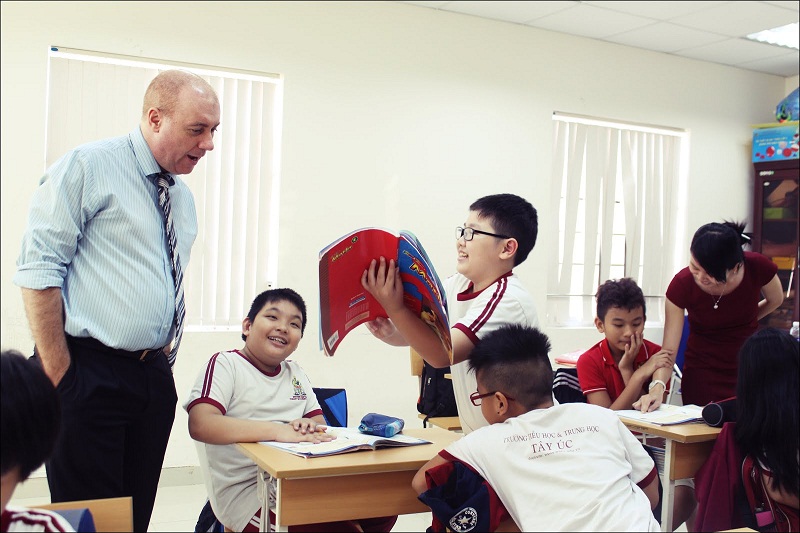 Adults usually care about how well do children learn, their score and rank in the class instead of concerning about what students like of their primary school teachers. Besides a solid knowledge holder, primary teacher is an artist, gentle mother, devoted father, and a kind friend as well. They are three essential elements to create a good educational environment and enhance learning inspiration for children.
1.Teachers should be very  jovial
Our forefathers used to say, "Given way is more important than given thing". This is true in comparision of teaching and learning. A good teacher knows how to convey knowledge to their students effectively. The experts reckon that teaching primary level is difficult to succeed in spite of less scientific knowledge. To convey knowledge and learning passion to students, teachers have to be good at pedagogical skill and inspiring. Thus, they must equip flexible teaching methods and well grasp students' psychology.
Being funny and humorous is the best medicine in education. Therefore, more and more international schools apply "learning by playing" methods. At WAPS, foreign primary school teachers always become humorous instructor. Le Thai Phuong Anh, a second grade student shared: "I love English the most, because my English teacher is very funny and and his teaching is very easy to understand".
Apart from being gifted, teacher's character is the biggest inspiration and impact on student's studies. A good teacher is one who understands students, has short but concise lessons. The wittier teachers are, the more interested students get. Phan Thien Thao, a grade 4 student commented: "My class is always fun and clean. My favorite subject is drawing because Ms. Thu teaches me drawing very well".
2. The teacher is a gentle mother
Children in the early years are very active, curious and love to explore new things, so how to wisely behave according to adult's criteria is very difficult for them. In this period, children are maybe very naughty; teachers and parents should not scold or warn by rodding. School violence and psychological pressure will adversely impact the children personality forming.
Through the survey of the learning environment at WAPS, Ms. Mai Thi Mui expressed: "The primary school teachers as us are the "3 in 1″ people who are students' teachers, parents and friends on their way to conquer knowledge and perfect personality. In addition to solid knowledge, and we consider our students as our children to have strong cohesion between us. If teacher are dedicated, students will do their best in learning."
With devotion, Ms. Mui became one of the most beloved teachers in WAPS. Tran Gia Khai, 5th grade student whispered to us: "Ms Mui is the teacher who gives me the best memories. She is very gentle and affectionate. She usually gives us hilarious jokes and sometimes meaningful gifts. This school is as my second sweet home".
3. "Let's play with us, teacher!"
In the old style of education, teachers often check student's preparation for their lessons but rarely know what students desire from teachers. The learning pressure will cause heavy and ineffective lessons.
In the advanced educational environment, primary school classes are more comfortable and active. The primary school teachers have to skillfully combine the subjects to raise the effectiveness of education. At WAPS, students can learn Maths in English, English in Art, or Literature in Music to make learning more interesting. Learning by playing is the best way to make students feel excited in getting new knowledge.
At primary school age, children are very young and unfamiliar with life. Instead of letting them say, "Teacher, let's play with us!", teachers should take intiative in participating in extracurricular activities, picnics, visiting museums, farms, generally guiding them living skills, interaction skill, and strengthening teacher-student relationship. Nguyen Quynh Tram, Grade 6 student of WAPS said: "I'm thankful that WAPS's teachers have loved and cared for us over the years. We will try our best in studying and making WAPS better and better."
Western Australian International School System
If you have any concerns, please contact us via: