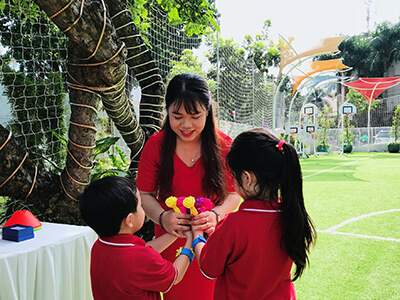 Vietnamese Women's Day at WASS is a meaningful day when the young WASSers get to make small gifts for their teacher, their mother, and beloved children. In addition to the gifts, the children also have many secrets and memories that sometimes they are embarrassed to confess to their teacher or their mother. Let's take a look at the unspoken messages of our beloved WASSers on this special day.
I want to thank my mother for taking care of me every day, every meal, every sleep, taking care of me all four seasons of happiness, joy and prosperity. On the occasion of Vietnamese Women's Day, the 20th of October, I want to thank you for giving me everything I wanted, thank you for the happy days when I was with you. I felt so grateful that every time I am sad, you're always there for me, comfort me. I wish you joy and happiness, not only on this special day but in life. Mom, I love you so much!
Gia An – Class 3D
———————-
When it comes to Vietnamese Women's Day, the 20th of October, I often think of someone who loves me, who will do everything for me. That is my mother.
My mother is someone who always helps me with everything. My mother loves me and of course, I love her too! I have a special memory with my mother, it's about my favorite stuffed animal. If it's torn or damaged, my mother will not hesitate to stop everything that she does and sew that stuffed animal for me. Each passing day, I just wish my mother and I would live together forever like this. I wish that in the future, anyone will love my mother just like me. I will always try to make my mom happy, day or night. Sometimes, when unexpected things happen, my mom look really sad, I feel very sorry for her. I don't want my mom to grow old! So when I was with my mom, I would try to make her happy.
I hope my family will be forever happy now. And every day I wake up, it will always be the happiest day. I will always give the best to my beloved mother.
I love you so much mom!
Doan An Minh Khoi – 4A
———————–
October 20th is Vietnamese Women's Day. On this day, I have the opportunity to express my deep gratitude to all my beloved women, my grandmother and my teacher. But above all, I wish to send my mother the best feelings and best wishes.
To me, my mom is the person I love the most because I am able to come to this world thanks to her. I know you have had a lot of hard work, carried me for nine months and have suffered a lot of pain to bring me to this world. When I was little, my mom was the one who cared for and raised me every day, follows me every first step of the way. I heard dad said, my first word was "Mother". On the first day of school, my mother was the one who took me by the hand to the classroom and send me to school with lots of instructions. Every day after returning home, my mother became a teacher to study with me. She the one who takes care of mine every meal and sleep. She would do everything for me but sometimes I make her sad.
Mommy! To me you're the most wonderful person in this world. I just want to say to Mom, "I love you so much".
Ho Chi Thien – Class 5C
———————–
"Mummy is my sunshine,
The sunshine to warm up my heart.
Mommy means forever ever,
Giving us everything and never ask back"
My mum, a person who always sacrifices, does everything for me without any hesitation. My mum is always the person who takes care of me, looks after me, worries about me and protects me. Whenever I cry or when I'm sad, mom always soothes, comforts and encourages me. I feel so happy and proud because I have such a wonderful mother.
My mum is a great woman, and she spent nine months and ten days carrying me to give birth to me. My mother's sweet milk was the only thing I could take when I was an infant. I remembered  when I was a baby, mum sang me to sleep with those unforgetable lullabies.
When I was a little older, I had become a stubborn little kid, refusing to listen to mum. I used to ask for so many stupid things and sometimes I made her sad. I feel so regretful and mom, let me send an apology to you. During the times when I was sick, Mum had to stay up all night to change the wet towel to cover my forehead, feed me each spoon of porridge and give me pills. Every time I made a mistake, instead of yelling at me, Mum calmly told me what and how I did wrong, then how to fix it. There were some times that I almost collapsed because I failed or didn't complete an exam well. Mum is always the first person to come to me, comfort and encourage me to keep trying, to not give up. I always feel safe and confident because I know that my mum will always be by my side to support and accompany me in my life.
Mom ! I would like to say thank you for giving birth to me, raising me and giving me an education. Your merits and sacrifices for me are so indescribable. I just want to say to you, "I love you, I really love you, my most wonderful woman. On October 20th, 2019, I wish my mother and all the women in Vietnam will always be beautiful, healthy and successful in work and lucky in life".
Hey guys ! Always cherish the women around you, especially your mother.
Whoever has a mother, don't make her cry,
Please do not let the sadness appear on her eyes…"
Nguyen Hoang Thien Thanh, grade 6B
———————
Mommy,
Thanks Mom
Because of the breakfasts I made for you every day
Because of my hugs and kisses every morning before I go to school
Because of the mail that my mom left me when she was away
For all the things you did for me
For always supporting me in everything
And finally, for helping me become a girl like today.
Do you know, everything I do is because I want you to be proud of your daughter. Mom I love you so much.
Your daughter,
Thoai Nhien – ADP 10
Western Australian International School System
If you have any concerns, please contact us via: