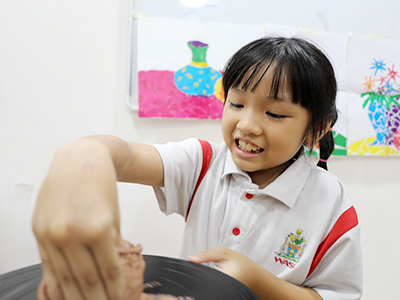 Discovering the interesting story about pottery at school
Since this school year began at the Western Australian International School System, we have had opportunities to explore pottery and learn how to make simple crafts.
Entering the school pottery studio, we were immediately attracted to the pretty little cups and small flower vases placed neatly on the wooden shelves.  Opposite the shelves are the pottery tables which the whole class can gather around.  Firstly, we played the roles of workers and started to gain experience working with clay and turntables in order to create raw products.  It is essential to leave the clay at the center of the turntable.  It looked easy to do at first glance, however, practicing proved to be challenging.  We were originally supposed to make a cup but then it became a vase!  We found it difficult to keep the clay in the shape which we wanted.  The work required a combination of attention and skill.  The clay needed drying before we could start to decorate our products in the following session.
Not only does learning how to make a pottery product help us understand the hard work of the pottery artisans, but it also enhances our skillfulness and creativity.  Through the work which requires high concentration, our management skills could be ameliorated.  After the lesson, we felt more relaxed and recovered after studying.  Particularly, it is the handmade pottery products that brought a lot of joy.  In the next classes, I hope I can discover how to make a beautiful ceramic shape.
Nguyen Hoang Dai Bich Nhu – Student of Class 4B
Pottery is a kind of folk art created by the skillful hands of a potter.  Fortunately, the Western Australia International School System has organized pottery lessons not only during the field trip but also in the curriculum.  Therefore, we can experience pottery making and become more appreciative of this art form.
On the field trip, we saw the process of making pottery from skilled craftsmen and knew that making a complete product requires a lot of effort and enthusiasm.  Soon afterward, we were directly exposed to two stages of creating and drawing patterns at school.  At first, we learned to use clay and turntables with rotating movements, while clawing to create products.  Despite the guidance from our teachers, it is not easy for us to do this as it is very difficult to control the pottery on the turntable.  We had to try many times before the first product was created.  After the lesson, our hands and feet were covered with clay, but it could be considered a type of skin care.
.  After that, we started to draw our own pictures on our product such as flowers, chickens, and ducks.
I love the art of making pottery.  It is very interesting because one needs skillfulness and patience.  The pottery studio is the place to rest and create new things.  Through the activities, the whole class becomes closer and we are relaxed after class.
                                                                                     Bành Bảo Trân – Lớp 5C
Have you ever made a cup, a flower vase, or a meaningful pottery product for use or give before? Let me share with you information about the fascinating pottery workshops at my school, the Western Australia International School System.
It came as a surprise for me to attend a cozy and elegant classroom.  This is an ideal place for me and my classmate to enhance our creative and passionate love of art.  We have experienced how to control our movement with the turntables to form subtle curves, how to be patient, and how to decorate the background pattern.
Pottery classes help me discover my own creativity and high concentration as well as release study pressure. I did make some pottery products for my teachers for Teachers' Day and for my parents.
                                                                                  Luu Ngoc Diep – Student of Class 5D
WESTERN AUSTRALIAN INTERNATIONAL SCHOOL
If you have any concerns, please contact us.