WASSers write letters to encourage medical teams and those who are quarantined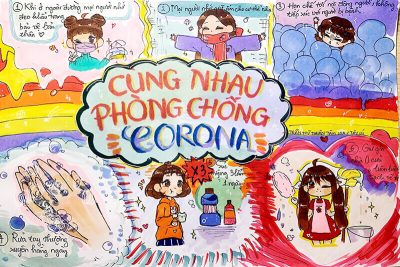 During the "war" against COVID – 19, WASSers kept up-to-date and stayed informed about the pandemic while maintaining learning routines and enhancing their knowledge. Recently, WASS has received letters from our students expressing their sincere thanks to the healthcare teams. They are the dedicated heroes on the frontlines of the coronavirus outbreak. They have worked day and night to ensure the safety and well-being of the community. The students also sent words of encouragement to those who are quarantined due to the pandemic and hoping that the coronavirus pandemic will soon end.
To all doctors, nurses and physicians working hard in the quarantine area,
I think a lot. During these times, writing down things makes me feel reassured and happier. For unhappy things, I wrote them down, locked them into a cabinet, and never opened it again. For the joyful and happy memories, I write about them and share them with everyone. Now, I am writing to express my happiness to you.
While I was writing these words, I know unquestionably that you are working relentlessly. I cannot either see or feel all to fully understand what you are doing and going through every day. Despite that, I am always worried and care about you.
When I see your photos on the internet, I really appreciate and admire your hard work and sacrifice. I realize that I should be more proud and happier than ever. I would like to express my sincere gratitude to you. I am hoping you will always stay determined and optimistic in the battle and fight against the coronavirus.
I remember when I was a child, I kept shoes new by not wearing them. After two or three years, they became too tight for my feet. When starting to wear them, an uncomfortable feeling made me annoyed little by little. Finally, I asked parents for new ones. Now when seeing the marks on your faces, I feel sorry as it must be much more painful and uncomfortable. When I feel tired because of the shoes, I always can take them off to rest. But under your circumstances, it is hard to find time for resting and to remove the mask. But I am going to tell you a secret that I think those marks make you glow as it marks an incredible effort by you. I am so grateful! As is everyone else, as you are our white blouse heroes. So, please always keep a big smile behind a small, powerful mask.
Recalling the recent Tet, I feel sad since the news was reported about the coronavirus. I am grateful to all the doctors, nurses, physicians, everyone in the medical and logistic teams who sacrificed their Tet with families to take care of their patients. Thanks to you, others can enjoy the holiday, and the spring a little more. The enjoyment is spread amongst humanity.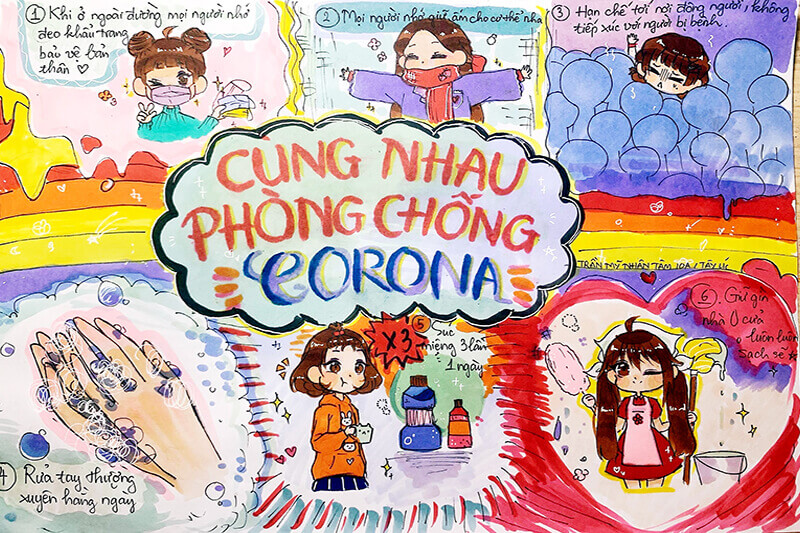 (In addition to the meaningful letters to the doctors, our WASSSers also draw extremely meaningful pictures to encourage the community to join hands to overcome difficult times)
I have a friend who is living in a quarantined area. She told me a lot about her own experience. She said she had a stroke when flying from  England to Vietnam because the temperature in the U.K. was quite low compared to here. She is also staying with strangers who she did not know before. Every morning, you will go for a temperature check. All the staff is so nice and friendly. It is so kind of you to encourage everyone to stay there with optimism and happiness.
Fighting! If you are so tired, you can write your feelings down, put them in the locker, lock them away as I do. People now say "We stay at work for you. You stay at home for us." This saying is quickly being shared on the Internet in recent days. I am sure that you are overwhelmed at work and stressful in the battle against this pandemic. You sacrifice your personal life for patients, quarantined people, and the community's health. However, in return, all you want is for "Everyone to stay at home for us". It seems to be a simple and easy wish, but it took a lot of effort to come true. What a touching message! Everyone and I are so grateful for what you are doing. I am very happy and always proud of you.
Thank you so much, our heroes! I promise to ease the burden on you and the community by taking care of myself and staying healthy. Together we will soon be able to say goodbye forever to the COVID-19. I wish all of you to always be healthy and happy as I am.
Nguyen Le Bao Han – Class 8B
To the ones who are quarantined due to COVID-19 pandemic,
I know that quarantine will more or less affect your life and work. Please understand that it is a highly appreciated action and the responsibility of a citizen. It is for daily health checks, for helping medical teams to take actions in time and to prevent unfortunate problems.
Everyone is a brave warrior.  The most powerful weapon against the disease is a positive spirit, as well as strictly following the doctor's words.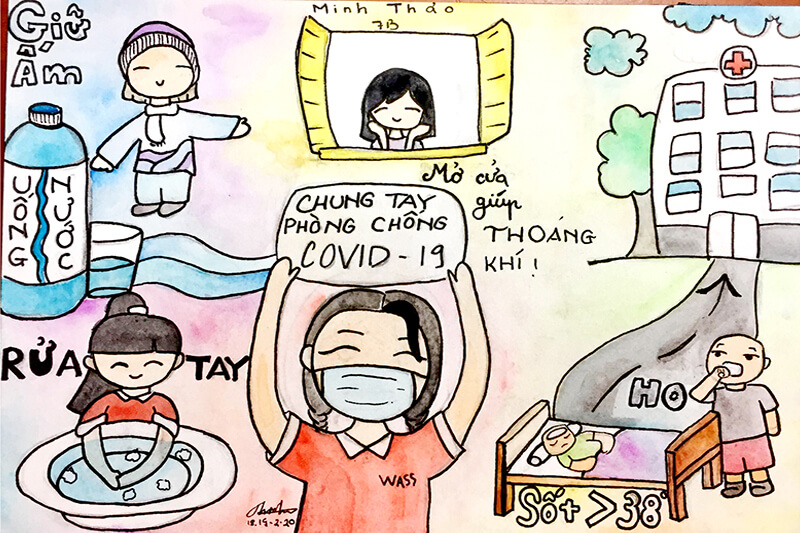 (The student's letters and artwork demonstrate their awareness and critical thinking in the selection of mainstream information)
Let's try our best to overcome this difficult period. Together we can win the battle against COVID – 19 with determination, optimism, and solidarity. Vietnamese people experienced many difficulties and challenges throughout history. Over time, together the community will soon end this pandemic.
We always follow and wish all the best to everyone.
Le Le Vy – Class 10C 
Through letters full of love, the WASS community hopes to strengthen and encourage the whole country to overcome the pandemic together.
Western Australian International School System
If you have any concerns, please contact us via: