WASS Spring Festival 2021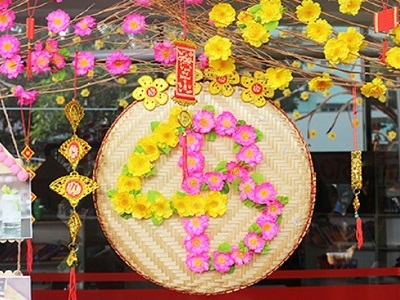 Traditional culture has always been focused at WASS. Spring Festival which is an annual event, has been an occasion for WASSers to know more about their traditional Tet holidays.
Coming to the Spring Festival, there are booths that were designed and decorated by WASS's students.
(picture)
At the festival, teachers, and students dressed up in traditional costumes for Tet. The appearance of colorful dresses, combined with the radiant colors of the apricot blossoms, the cherry blossoms made the Tet atmosphere fill in every corner of WASS.
(picture)
Traditional Tet activities have been conducted at the festival such as making Chung cake, five-fruit tray, and writing calligraphy idioms and folk games.
(picture)
Moreover, in Spring Festival, performances of students were featured and became successful. Live music, costume designs, and decors were astounding and well-prepared.
(picture)
The annual Spring Festival event in WASS is an opportunity for WASSers to experience the traditional Tet holiday through a wide range of exciting activities, along with culinary stalls and unique folk games …
(picture)
Through this event, we would like to convey to the students the message of commemorating and preserving the traditional beauty of our nation. For international students, this is an opportunity to learn more about the multicultural diversity in WASS's educational environment.
Western Australian International School System
If you have any concerns, please contact us via: