WAPS's students take part in learning about the education system of UK and US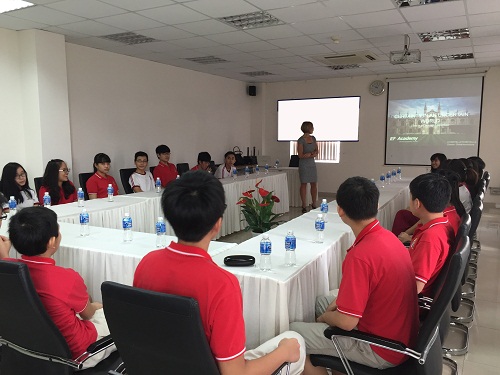 On 25/11 morning, WAPS's students participated in seminars on training necessary skills to prepare for the high school program as well as have right choice for their future.
Attending the workshop, students were shared by Ms. Chantelle Robitaille – Global Enrollment Director of EF International Academy Boarding High School. This really was an opportunity for WAPS's students to learn more about Britain and American education systems, prepare basic skills to get a ticket to the top universities in the world.
High School Program is a critical stage for students, helping them prepare language knowledge and life skills necessary to integrate new culture and environment. Thus, High School education program at EF Academy International Intitude will be an important direction for them to study at prestigious universities in the world.
Although Vietnamese students are diligent, hardworking, they are still not as good as native students and developing education countries' in expressing skills, analytical thought and theoretical applications. Also, the less participating in extracurricular activities, sports activities and shortage of necessary skills will also reduce impression on recruitment record into the reputed abroad universities. In this sense, today conference is an opportunity to help the WAPS's students pracice and prepare the necessary skills to study and be able to confidently participate in high school programs at EF Academy.
The conference took place in a joyful atmosphere, with lively exchanges, sharing of teachers and students from WAPS. Hopefully, through this workshop, students can master the essential knowledge and skills to prepare for the high school program as well as to have the right choice for the future.
Western Australian International School System
If you have any concerns, please contact us via: