The gratitude ceremony for teachers on Vietnamese Teachers' Day 20/11 of WAPS's students was meaningful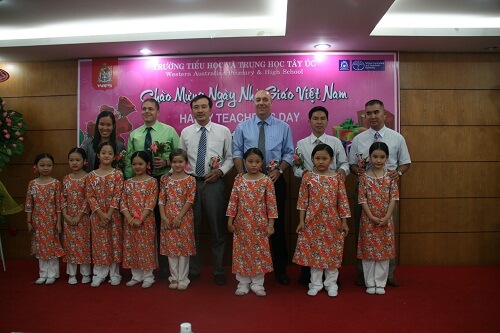 On 20/11/2014 afternoon, WAPS celebrated the meaningful gratitude ceremony for teachers with vibrant and attractive performances.
The ceremony took place in extremely playful and bustling atmosphere with the participation of the WAPS's management board, teachers, staff, parents and all students.
With grateful and respectful hearts to teachers, WAPS's students brought the ceremony with performances staged elaborate and attractive as the small gift donated to teachers on Vietnamese Teachers' Day 20/11.
Meaningful lyrics echoed in the soul of each person. Parents borned and raised us. Teachers conveyed us knowledge, motivated our dreams and gave us wings to fly away. With those enormous merits, students can not forget, so this gratitude ceremony was an opportunity for the students to sentiments, profound gratitude to their teachers.
In response to the sentiments of students, WAPS also donated meaningful gifts to individuals, groups learning achieved outstanding artistic activity and learning results. Along the achievements gained in recent years, WAPS's teachers and students will make the best efforts to become one of the outstanding education units of Ho Chi Minh City in particular and of Vietnam in general.
The gratitude ceremony for teachers on 20/11of WAPS ended successfully.
Here are a few photos of the event:
Western Australian International School System
If you have any concerns, please contact us via: