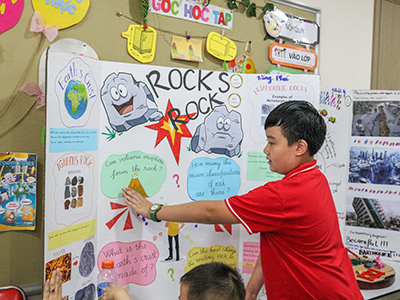 Emotions When Implementing The Exhibition Project
The exhibition of the past school year 2018 – 2019 has left the students with a great deal of emotions. Let's  listen to their experiences and feelings while preparing their own project for the annual WASS festival.
Although the exhibition day has passed, the lively atmosphere still remains with me as though it was yesterday. There are still memories of us eagerly preparing our projects, trying to do really well to have beautiful, quality products that were realistic.
In class, we were given suggestions by our teachers on interesting topics and in accordance we were able to choose the appropriate projects for ourselves.
During the project, we were instructed by our teachers on how to decorate the poster and make a presentation that would stand out. For me in particular, that time was very enjoyable and I had a lot of unforgettable memories while working on that. From the beginning, I was able to think, explore and choose my favourite topics to do the project on.  During the last days before submitting the posters, we stayed at school longer to discuss and comment on each other's papers in order to give better performances. Those times together were so precious.
Our teachers were very patient when guiding each one of us. They gave us suggestions on how to write a presentation so that it was convincing. Not only that but the teachers also patiently answered any questions to help us to create the best projects.
Finally, I had the opportunity to present my academic achievement and growth to my friends and family at the annual exhibition.
On the day of the exhibition, we were able to present our efforts. Our parents were very impressed to see what all of  the students from WASS had created and how well the posters were decorated.
Throughout this exhibition, I would like to thank those who have given their support, namely our teachers and parents. We would not have been able to implement projects well without their valuable guidance.
I hope we will always have a useful platform such as the exhibition because that time helped my friends, my teachers and I become closer. Moreover, we gained more knowledge and understanding of the process of implementing a topic into a poster and presentation. I am overjoyed and I will always remember the exhibition as a beloved event at WASS.
Nguyen Thuy Minh Chau
Student of class 5A
When I was told by my teachers that I had to choose a topic to take part in the exhibition, I was very confused because I did not know how to choose the right topic or how to do it well. However, after thinking and writing preliminary ideas, I was guided by teachers to reinforce and form a complete topic.
I tried my best to decorate and complete the project in the most impressive way. Regarding the presentation, I found my information from books, then my friends and I sat together and shared the information so that we could comment and advise each other further.
By the day of the exhibition, I was able to confidently present the project to everyone. I think this project makes the school year more lively and fun. I really want to have more opportunities to implement this project because I see this as a very effective way to cultivate and reinforce my knowledge. I hope that my project next year will be even better so that I can bring more useful information to attendees of the exhibition.
Khiet Thuan
Student of class 6C
The annual school year exhibition at WASS in 2019 is an opportunity for us to get creative from the knowledge that we have accumulated in the past school year.
We are recommended by teachers to choose our favourite topic, freely express our knowledge, design ability and diversity in the fields of natural sciences, social sciences and applications in life.
While participating in the exhibition, I had the opportunity to learn more useful knowledge from other friends at WASS. I felt very impressed by certain projects such as The Gravity Vehicle that uses Newton's law, the model that explained the origin of 54 ethnic groups in Vietnam as well as the typical model of Rong Houses of the Central Highlands Ethnic People. In order to create these projects, my friends and their teachers spent a great deal of time and effort on them, as did my teacher and I on mine.
I want to thank WASS for giving us the opportunity to participate in this exhibition, helping us to have more time to get together with friends and teachers and build more beautiful memories at WASS.
Phuong My Chi
Student of class 10A
Let's take a look at of some rememorable photos of the exhibition:
WESTERN AUSTRALIAN INTERNATIONAL SCHOOL
If you have any concerns, please contact us.