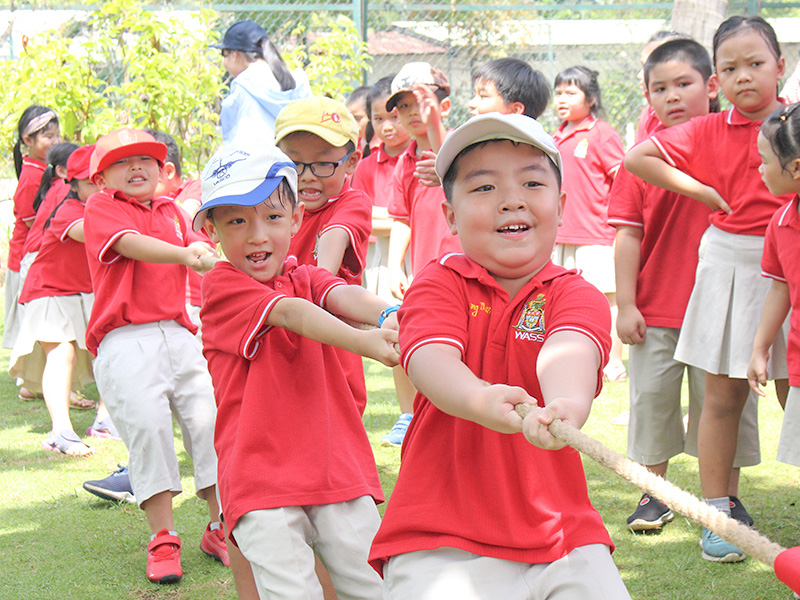 Camp Of Fun – Active summer camp for Pre school and year 1
The 2019 WASS School summer program is officially underway!. Today over 200 WASSers of Pre-school and Year 1 had a very fun and exciting "Sports Day". Students participated in many different sporting events and showed great passion at Binh Quoi 2 tourist area.
With the summer theme "Camp of Fun", all participating WASSers were challenged with a lot of exciting team games. Including bag jumping, capture the flag, tug of war and swimming. Through participation in all of these recreational activities students can transform themselves into real athletes and team players. Honing their physical skills, students are provided with a stress reliving environment after a long day of studying in school. Students also learn the spirit of fair and honest competition.
At the conclusion of the days sporting activities, the Night Gala will begin. The theme for this years Gala is "Fairy Tale World", where the students will embark on a journey into fairyland. In fairyland there are princes, princesses and many other fairy tale characters that will step out from the stories they love to become real. WASSers will be able to live out their childhood dreams and imaginations. In addition, the camp night will also allow WASSers to transform themselves into talented adventurers and secret enumerators to seek out treasure. The collective activities such as dancing and singing to the music, sitting together inside the tents, listening to the teachers telling fairy tales will help the children bond and become closer together, creating beautiful and lasting memories.
WASS believes that the activities in the 2019 School Summer Camp coupled with all the interesting experiences gave all the students of WASS an unforgettable night that they can all be proud of. This is another precious gift from the WASS community that we offer to our beloved WASS students for their outstanding effort in the last semester examinations.
WESTERN AUSTRALIAN INTERNATIONAL SCHOOL
If you have any concerns, please contact us.