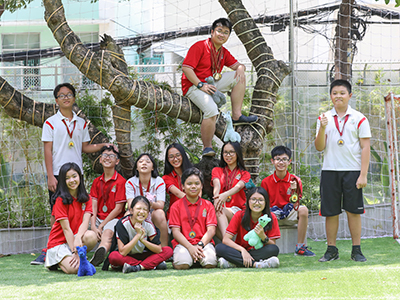 WSC 2019 results, WASSers heading to Sydney!
Overcoming thousands of participants from more than 70 countries, the WASS teams have won 43 individual and group medals in the Ho Chi Minh regional tournament. With all the accomplishments they have accumulated during their time studying at WASS our students banded together and showed extraordinary courage and bravery at the international academic playground of the WSC.
Congratulations to the WASSers named below who have officially entered the world qualifiers that took place in July, in Sydney, Australia!
Team 472: Bui Vu Khoa (10A), Nguyen Tuan Anh (9B), Tran Le Thoai Nhien (9B)
Team 792: Truong Doan Yen Giang (8A), Nguyen Vu Nhu Minh (8A), Nguyen Le Gia Nghia (8A)
Team 793: Hoang Gia Linh (6A), Nguyen Chau Anh (6A), Tran Quang (6B)
Team 794: Truong Nhu Minh An (WA6), Phan Dong Thien Minh (WA7), Nguyen Le Minh Hoa (8B)
WASSers experienced and participated in three thrilling and exciting exam days. These examinations provided them with professional and mentally tough challenges. The contestants in the WASS team not only used their basic knowledge but also showed their personal talents, thinking ability and logical reasoning skills. Participating in the 2019 WSC also helps WASSers be confident and fully equipped with the necessary skills on their learning path in the trend of global integration.
The WSC of 2019 will be a memorable competition for all WASSers to participate in. Tensions will be high as students from all over the world will compete for the few remaining spots in the next round of the 2019 WSC. WASS believes that this competition is an encouraging and extremely rewarding achievement to the WASS students and community. No matter where our teams place in their respective rounds the WASS community will celebrate their determination and desire to strive for excellence. Our WASSers will be commended for their success and selflessness, and they will not be competing alone. WASSers will have the full support and companionship of all teachers and parents during their journey to conquer the 2019 WSC.
WASS would again like to congratulate all of the students who have performed well in the 2019 WSC. We wish all the WASS scholars who are advancing to the next round to achieve even better results to win the "Diamond Ticket ", which grants entrance to the final round at Yale University, located in the USA.
WESTERN AUSTRALIAN INTERNATIONAL SCHOOL
If you have any concerns, please contact us.