We are now ready for school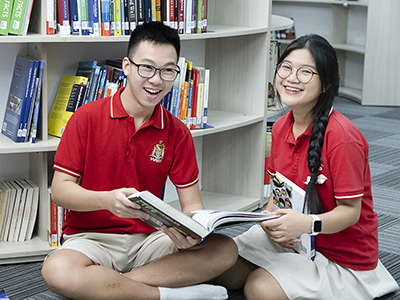 After a long lockdown, our WASSers must have missed their teachers and friends a lot. Along with these thoughts, they must have many wishes and goals that they have set for themselves as well as feelings for the upcoming exams. Let's hear from our WASSers, sharing about their future intentions and goals.
During the temporary lockdown due to COVID-19, I felt really sad about not seeing my friends and teachers. This semester, I have set many goals for myself to study to the best of my ability and to prepare for the upcoming examinations. I have set these goals for 3 main reasons: Firstly I don't want my parents to worry about my studying. Secondly, I don't want to disappoint and waste my teacher's efforts to put their trust and expectations in us. Finally, for my future studies, I want to contribute to the community and apply myself to become useful for our society.

I really wanted to go back to school and hang out with my friends but I was aware that others around the world could not go to school as well due to this pandemic. I must appreciate what I have now and study harder to get the best results in the upcoming tests and make my parents proud of me. 
Nguyen Van Lam – Student of class 4B
At first, I was really glad to extend my holidays due to this pandemic. But right after the outbreak, my holidays got longer, and I started to miss school, my friends and teachers. To ensure my learning continued during the pandemic, my school began teaching online. I was very happy, although I could not go to school but I was able to keep up with my studying through extremely creative lessons from WASS's teachers, I could feel the passion and dedication of our teachers. I received detailed instructions if any problems arose during my learning at home. However, this can't be as fun as my actual class in school, studying with my teachers, enjoying break time with my friends.   
Nowadays, my country has kept this pandemic under control, and therefore it has given me the chance to return to school. Seeing my friends and teachers made me so happy, I appreciate every lesson in school. With this return to school, I will try my best and put more effort in my studying to not disappoint my parents and teachers.
Final thoughts, I want to thank WASS's teachers due to their dedication to delivering us the best lessons that we can have, as well as doctors who contributed to let us have a chance to go back to school!
Tran Nam Anh – Student class 6B
More than 3 months – that is the time that we have to stay at home during COVID-19. That is also the time that we have to be away from friends, teachers and beloved school due to the pandemic. During the outbreak, I have spent this time on my personal hobbies, reading books, physical training, finishing my favourite movies,… For me, this is a really valuable time to accomplish some of my intentions that I did not have the chance to do in the past. 
Besides fulfilling my hobby interests, I also attended online classes at WASS which were designed by my teachers. Lively lessons were delivered by many methods that made us pay more attention to studying as well as consolidate my previous knowledge.
Finally, the day that we are all waiting for, I can go back to school to see my friends and teachers. To me, this is a real joy in my life. I am really excited to go back to WASS. There is only a short period of time until the end of semester 2, I always want to get the best results at the end.
Thanks to all the teachers that have put the efforts to design such wonderful lessons for us. I wish you can have much health as possible and continue to accompany us throughout the school year. I wish our WASS family will have a success in 2019 -2020.      
Huynh Pham Hoang Phuong – Student of class 11B
After being away from school for more than three months, I felt really excited as I walked through the door and saw my lovely friends. I did not forget much of the lessons because the school did an amazing job by assigning online classes through Google classroom. In the beginning, I had many struggles with it as I am not naturally good at computers and technology. However, thanks to the school, the teachers who always supported me and made the lessons very simple and very enjoyable. I had some great learning experiences during the quarantine. I am now getting used to the school routines. Every student has to wear masks, keep their hands clean, and practice social distancing, which is quite unexpected, but, as long as I can go to school, everything is fine.
The end of semester examination is coming, and I need to do lots of things in order to be well prepared for it. I will make a list of the course materials and the chapters that I have covered for each subject, then highlight all the areas that are important, and starts with reviewing the difficult parts. Also, I am going to form a study group with my classmates because this is a great idea to reduce stress and increase my motivation to study. In addition, maintaining good health to perform well in school is extremely important, so I will stop eating unhealthy food like I was during quarantine, and do more exercises like go swimming or playing badminton with my friends. Lastly, I will keep myself calm instead of being worried or stressed so that I can bring out my best for the final exams. 
After finishing this school year, I will spend all my time on volunteering and helping out people in need. The reason for this is that I once went on a charity trip with the school and I felt that is what I wanted to do. It is a great experience that money can't buy! 
Julie – Student of class ADP 11
WASS wishes all the best to our students so they can accomplish all of their goals which they have set for themselves, have a successful final exam and achieve all of their dreams. 
Western Australian International School System
If you have any concerns, please contact us via: