WASS "Young Ambassadors" talk about the Cyberbullying concern.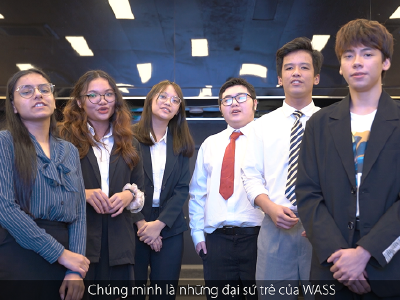 Stop Cyberbullying – is a public day to raise awareness about the impacts of cyberbullying and its consequences on the behavior of young generations. Let's listen to the "Young Ambassadors" of WASS towards this concern.
While social media has undeniable benefits for society, there is also an escalation in the trend of bullying on the internet. In the USA, research shows that up to 36.5% of users on social media said they are or used to be victims of cyberbullying. The figures have been on a sharp rise since the first report in 2007, and the number of people reporting cyberbullying has increased dramatically. The statistics also show that 69% of people admitted to having done something abusive. The remaining 15% admit to having cyber bullied others through social media. Cyberbullying will become a serious social issue in the future, if there are no preventative measures and proper awareness in the community.
On the Day of Stop Cyberbullying, listen to WASS "Young Ambassadors" sharing about bullying on social media and its effects in a school setting. Through these activities, the students can raise their voice with the message "Let's embrace the power of today" and "Let's spread love and empowerment".
To help students examine general global issues and specifically cyberbullying, WASS regularly organizes educational campaigns related to these topics. The campaign focuses on raising students' awareness of cyberbullying, as well as causes and preventions of the issue through discussions and debate contests. Thus, students understand generally about cyberbullying, the impact of social media on their lives with methods of prevention. They are joining hands to build a peaceful and harmonious world. In addition, the school would like students to know that if they face any bullying issues, they don't need to deal with it by themselves. WASS students can always talk to teachers and the school staff for a timely and proper solution. At the end of the day, we can come together as the WASS community to try to stop the impacts of cyberbullying.
Let's join WASS to stop cyberbullying and bring meaningful messages and values to the community.
Western Australian International School System
If you have any concerns, please contact us via: