WASS Excelsior Scholarship – Accompany Your Future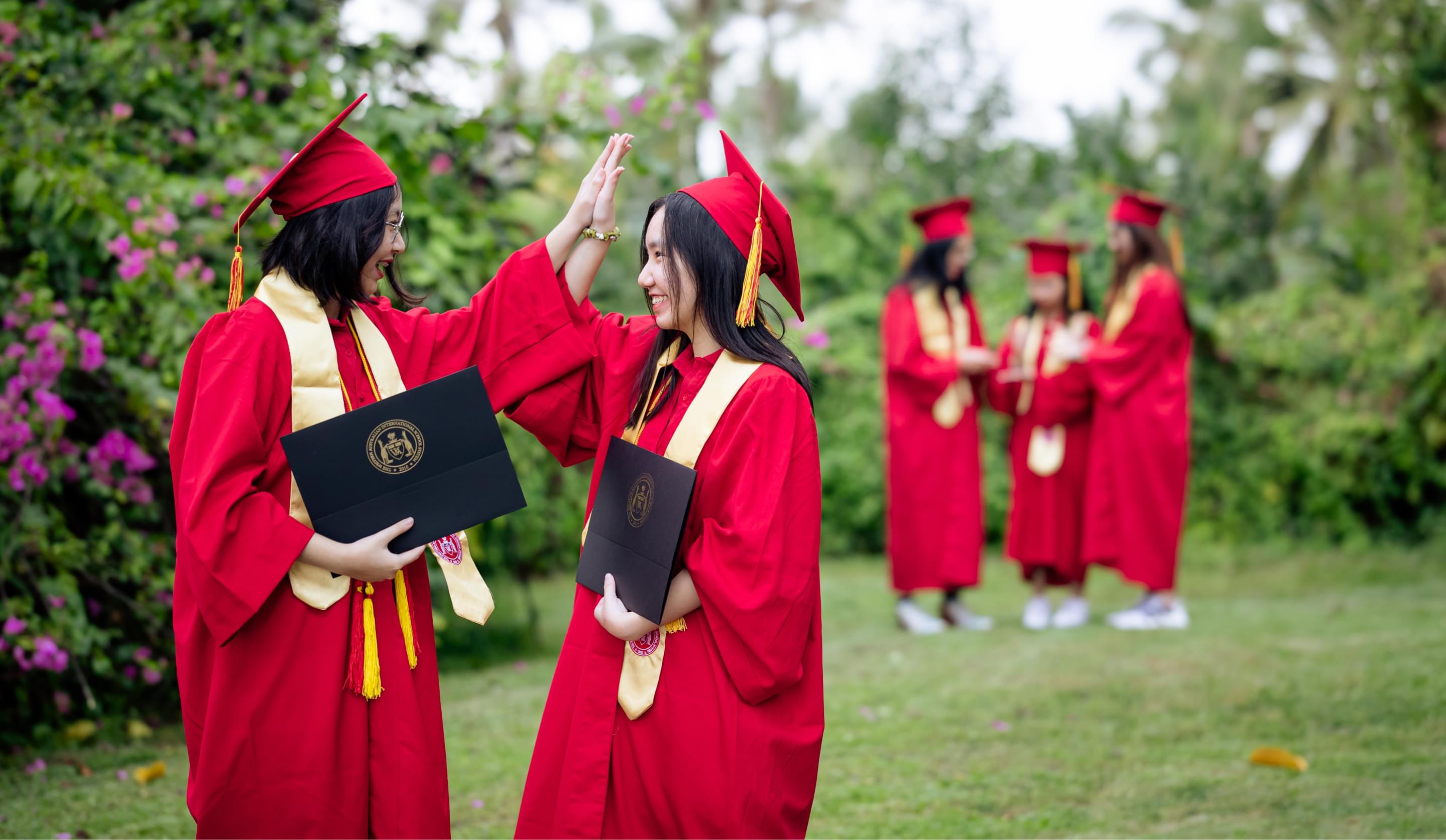 In the 2023 – 2024 school year, Western Australian International School System (WASS) awards the "Excelsior Scholarship – Accompany Your Future" to talented students with outstanding academic results.
The scholarship is a worthy recognition of students' endeavors, creating motivation and encouraging them to continue their efforts on the journey of finding knowledge. Moreover, WASS Excelsior Scholarship extends opportunities to access advanced and qualified educational programs, which are a solid foundation for students to conquer their dreams.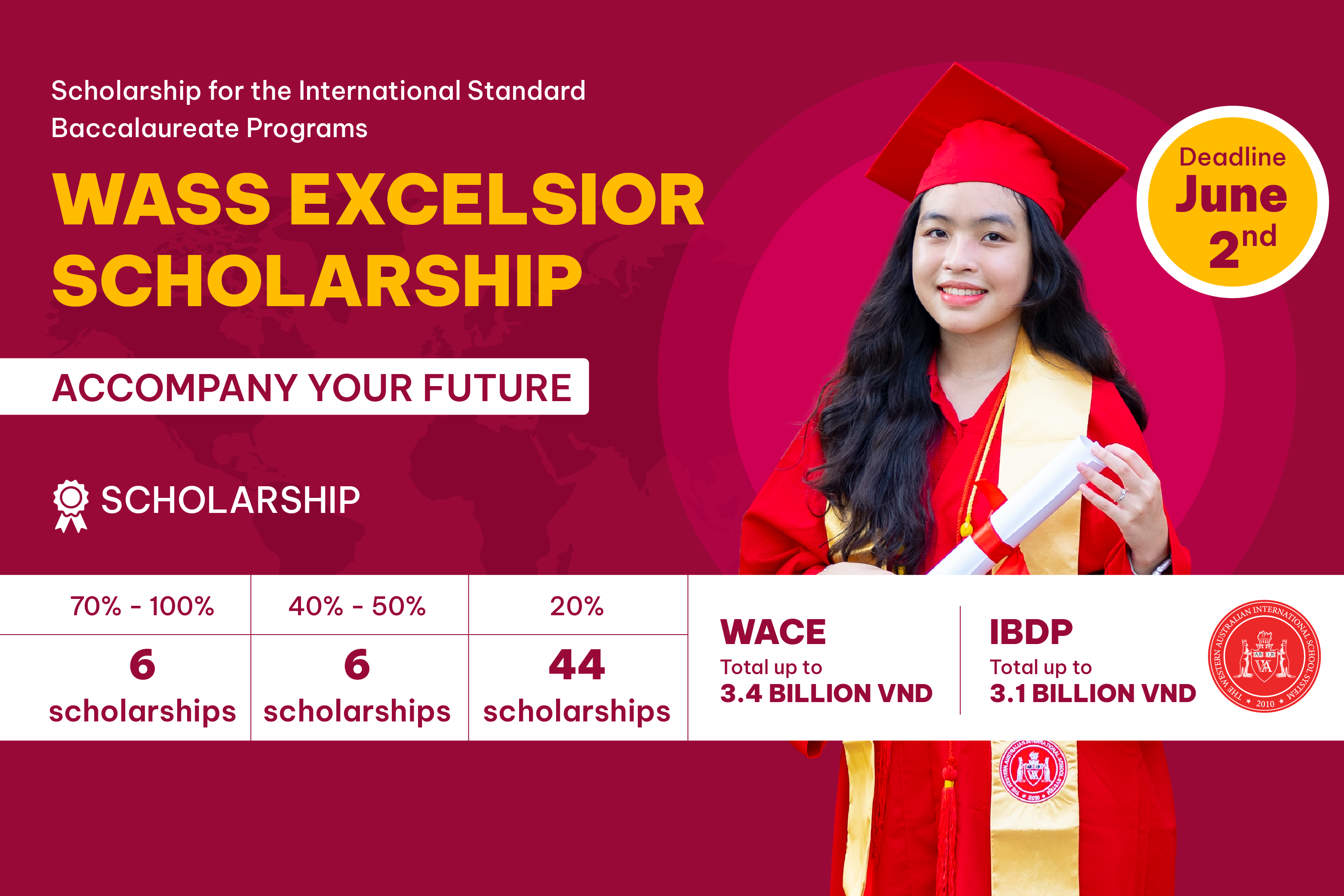 The following detailed information about the "Excelsior Scholarship – Accompany Your Future" as follows:
CONDITIONS


Participants:


Current students who are studying in Years 10 & 11 at WASS in the academic year 2022 – 2023.
OR Students who have participated in the Placement Test at WASS in the academic year 2023 – 2024.

Academic achievements:


The overall grade (GPA) in the past two academic years (the 2021 – 2022 academic year and the first semester of the 2022 – 2023 academic year) must be from 3.2 – 4.0, or equivalent.
Ability to use English fluently with international English certificates such as IELTS, TOEFL, or equivalent.
The results of both Placement Tests must be above 75/100.

Other requirements:


Excel in extracurricular programs, performing arts activities, sports competitions, various competitions, leadership skills, and community involvement.
Agree with and meet the values and teaching methods of the school.
Have passion and goals in studying.

SCHOLARSHIP APPLICATION DOCUMENTS


Copy of passport, ID card, or birth certificate
Scholarship application
Copy of the Academic Transcript of Records from the past two years. If the candidates submit their applications from March to May 2023, they only need to submit the first semester Transcript of Records for the academic year 2022 – 2023
A letter of recommendation and email from teachers, counselors, or school members
Certificates or records of outstanding achievements in extracurricular activities, talent contests, leadership abilities, and community involvement (if any)

ADMISSION PROCESS


Round 1: Registration
Round 2: The Personal Statement Writing that explains students' passion and goals in study, their achievements, and why they deserve the scholarship
Round 3: Interview with the School Board

NOTES


The scholarship does not include deposit fees, uniforms, shuttle bus services, outdoor trips, or fee-based extracurricular activities.
The scholarship cannot be converted into cash or transferred to any other student.
WASS has the right to approve only those candidates who meet the scholarship criteria.
In case of any fraudulent or dishonest behavior in the application, test results, or interview, the school has the right to revoke the scholarship.
Students must achieve the scores corresponding to the scholarship application requirement in the following academic years to be able to maintain the scholarship.
Parents and Students submit the Scholarship Application Documents at 157 Ly Chinh Thang, Vo Thi Sau Ward, District 3, HCMC.
Western Australian International School System
If you have any concerns, please contact us via: