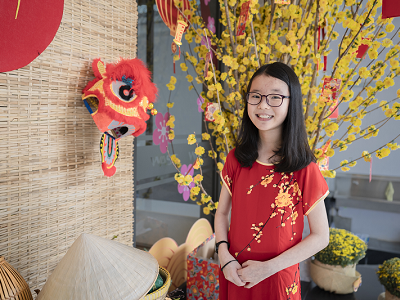 To each of us, Tet has a different meaning. It might be an occasion for family reunions for those of us who live far from home. It might be the time for people to relax after a year of work and or study, or Tet might mean a time for new clothes for children. Whatever Tet might be, Tet always results in special feelings.
Let's read the different meanings of Tet by our WASSers!
To me, Tet is a special occasion for the family to gather together and to celebrate a new year. Tet is coming so I will decorate my class with Ms. Suong and share more happy times with my family. Soon, the streets will be filled with the yellow colour of apricot blossoms and my family will take a lot of beautiful photos. We will visit Nguyen Hue Spring Flower Street to see the most beautiful blooming flowers. Tet is magical to me because I believe that everyone will have a happy and lucky new year.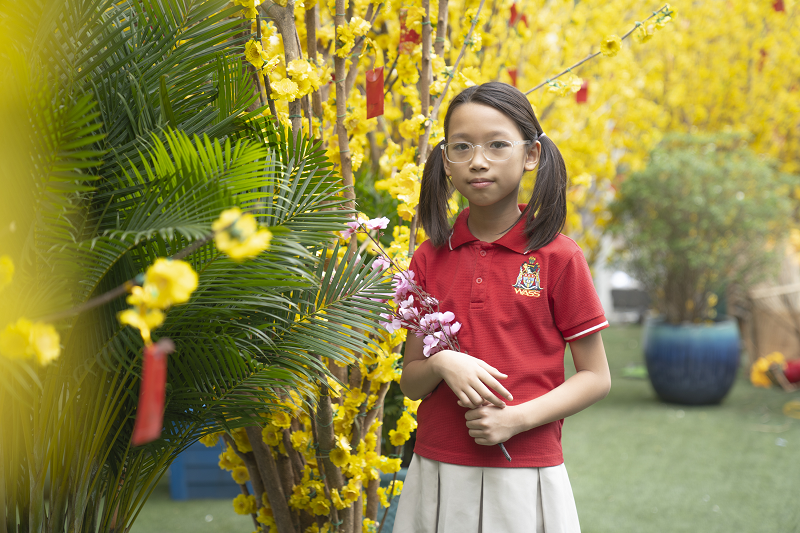 Phan Anh Minh – Student of Class 3J
There are so many important events that happen in one year. However, whenever I tear up the last paper on the calendar in December, everyone has the same exciting feelings as the new year is coming. Spring arrives, Tet is "knocking and approaching", joy is doubling and our happiness multiplies. Children even look forward to Tet more than adults. Even though Tet is a  fun occasion, there are so many things adults have to think about such as buying groceries and considering their expenses. As children, we do not have to think about that because Tet is an occasion where we are given new clothes, receive lucky money and allowed to eat candies. Most importantly Tet is a time for no homework. Perhaps, that's why children love Tet. 
Teti has traditions, and is part of the Vietnamese national identity.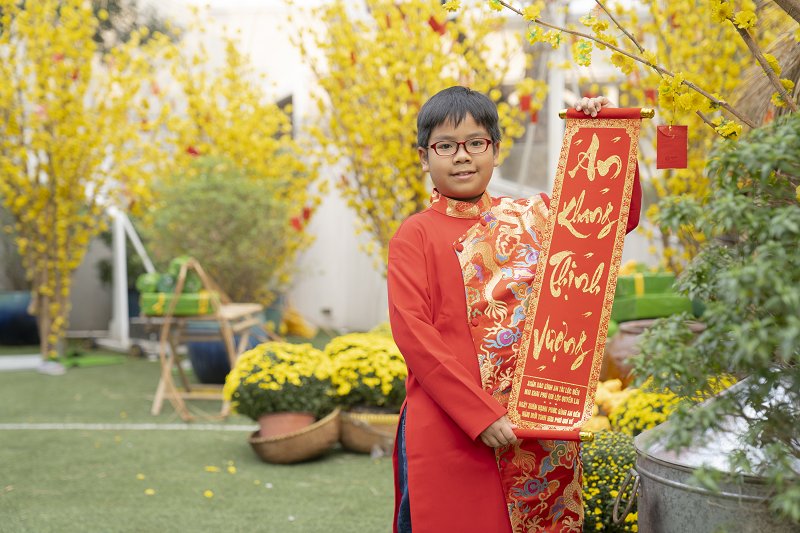 Minh Sang – Student of class 5B
Tet for me is a bustling and crowded atmosphere at every street corner. Streets are filled with spring "colours" as we all can see apricot blossoms, peach blossoms, kumquat trees and sticky rice cake everywhere. Everyone smiles to welcome Spring.
Every year, on the evening of the last day of the lunar year, my family gathers together to celebrate the New Year'Eve, watch the brilliant fireworks, and hope for a peaceful new year. On the first day of Tet, I wear new clothes, celebrate Tet with family, and receive lucky money. Those are moments of joy and happiness. 
As another Spring arrives, Tet is in the air, I wish everyone a warm New Year with family and hope that my family will always be happy together.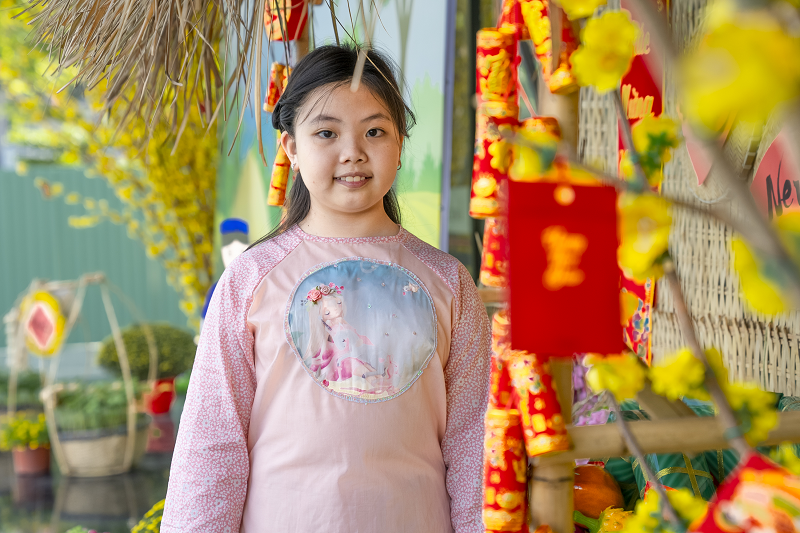 Ly Nguyen Thao – Student of Class VAP 3
Spring is coming, apricot blossoms are blooming, children like us are awaiting Tet. Our home becomes a special place to gather the whole family,  which is difficult to do on weekdays. 
Spring is coming, Tet is "knocking", everyone is excited with a smile on their faces. Children put on lovely ao dai''s to enjoy the festivals. Happiness is doubled when everyone's pocket is filled with red envelopes. The adults are busier with house chores and calculating the expenses for Tet. Even though there are so many things that need to be handled, that is the taste of Tet!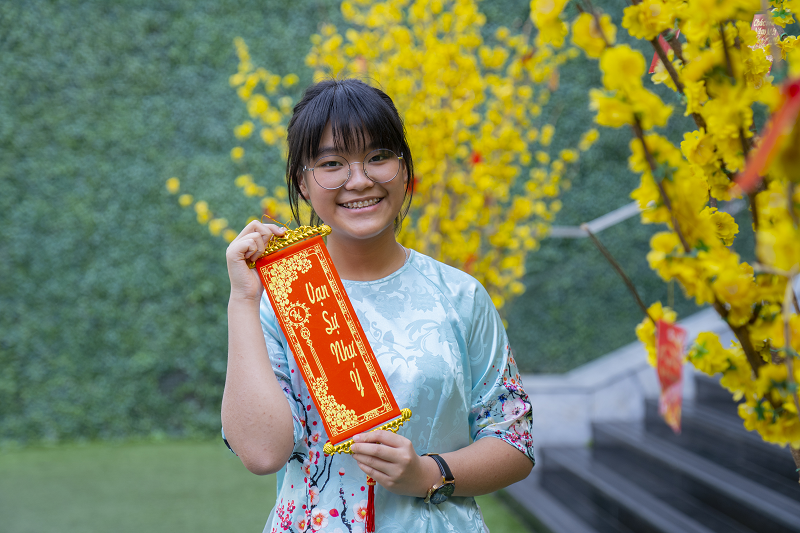 I do not know how Tet is to other people, to me, my family will go shopping together to buy apricot tree branches and kumquat trees for decoration. Every year, I help my parents to hang the red envelopes all over the apricot branches and kumquat trees. Every year, my wardrobe contains new colourful clothes. I like them so much that I look forward to the first day of Tet to wear them.
Celebrating Tet, all children focus on the candy tray. There are so many types of sweets and jams. We even do not care about whether we can eat them or not, but we always want to take as many as possible. Eating while giggling, sometimes, we share them with our parents. We are even happier with brighter smiles when receiving lucky money. We line up to receive red envelopes. Of course, we never forget to bow and say "thank you".
This is Tet in the countryside. Everyone comes to visit others to celebrate Tet together and give each other best wishes for the new year. The atmosphere in Saigon is becoming cooler recently which makes me crave the warmth of family reunion dinners.
Lai Duy San – Student of Class WA 8
Nắng chiếu lung linh muôn hoa vàng
Chở tia nắng về trong  ánh mùa sang
Gió mãi mơn man trên đóa môi hồng
Người em yêu tìm quên trong cuộc sống
Bướm vẫn tung tăng bay la đà
Mặt trời mây buồn nhẹ trôi thiết tha
Ánh mắt mơ trông nơi xa vời
Chờ mùa Xuân đến đem nguồn vui
(Vietnamese song)
When the swallows are hovering in the sky, the chilly air begins, the apricot blossoms are blooming, it is Tet coming. 
Each of us has a different feeling about Tet. For me, I like Tet because it represents the "UNION". I can go back to my hometown with my grandparents to celebrate Tet in very beautiful scenery next to my loved ones. That feeling is so wonderful.
I love going to the Spring markets with mum and my grandmother to buy beautiful flowers to decorate, candies and lots of other stuff. I like the 28th and 29th of December (Lunar Calendar) the most since my whole family will gather together to pack sticky rice cakes (banh chung). I still remember the greenness of leaves, the image of my parents sitting and cleaning the leaves and then wrapping the cakes. I have been waiting for so long to cook for Tết. Every year, we make Chưng cake (Vietnamese Rice cake) and I love to be the "guardian" of the Chưng cake pot. I enjoy the warmth and the fun when seeing the fire of the cooker. I love the feeling of sitting around with my family watching Tao Quan (a Vietnamese TV show for Tet) on New Year's Eve. I feel warm and happy. I am always excited for New Year's Eve when everyone counts down every second to say goodbye to the previous year and welcome the new year under the sky full of brilliant fireworks. How wonderful that moment is!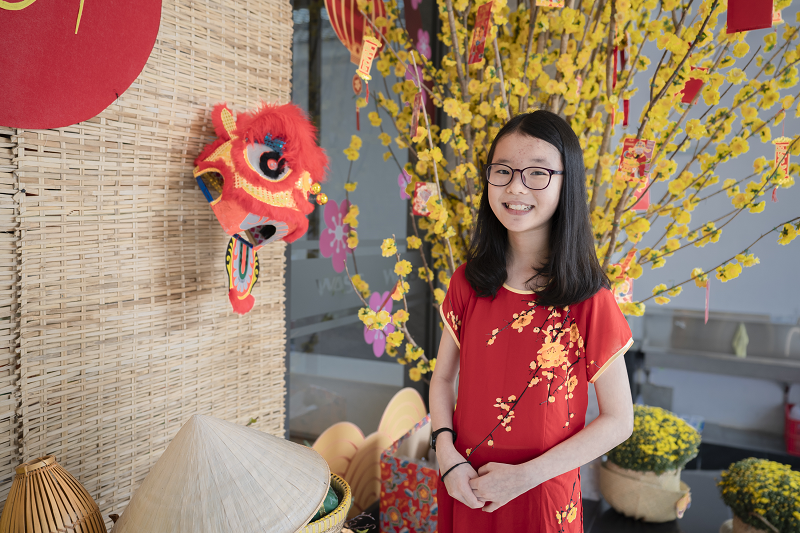 The previous year has passed, a new year has arrived, we wish each other a lucky, peaceful and happy new year. Just like that, Tet holidays will pass and we will be back to our daily life. However, there are people that have not fully enjoyed the Tet holidays. Tet comes and ends in a hurry just like a poem by Xuan Dieu: "Spring is coming, it means Spring is passing, Spring is still young, it means Spring was old".
2020 has passed and 2021 has come, I wish everyone good health, prosperity and happiness. Special wishes for the teachers and students of WASS good things in this new year.
HAPPY NEW YEAR 2021.
Dao Kha Vy – Student of Class 6A
Tet in me is…
…the warmth of family.
The chilly cold of winter gradually dissipates, the flowers are gradually blooming, the trees begin to sprout and put on a "green shirt" which is a signal of spring coming. Let's look back at what we've done and say goodbye to 2020 and say hello to a peaceful and happy 2021!
For each of us, Tet is something really special. For young children, Tet is about new clothes and red envelopes full of lucky money. For adults, Tet is about family reunions after a year apart. Tet in my memory is the image of the whole family gathering to make Banh Chung. To me, Tet is also the moment of New Year's Eve. Tet at WASS always brings me back to different childhood memories. In this joyful atmosphere, wrapping Banh Chung together reminds me of the warmth of Tet with my family in my hometown. At WASS, from the schoolyard to the classroom, there are different spaces decorated with Tet themes such as a tray of colourful spring fruits, blooming apricot peaches and branches. Together, WASSers decorated, shared stories about Tet that make me want to be back to my family as soon as possible.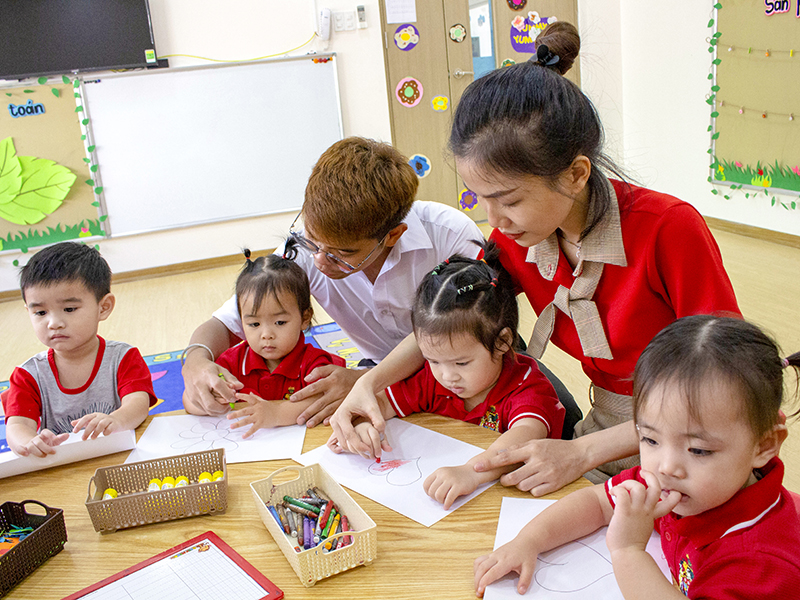 Students at WASS are ready for Tet with new clothes and beautiful shoes. Our lovely children and I take lots of photos to capture these memorable moments. We also make cakes, jams and craftworks such as calendars and envelopes for lucky money. We also have the opportunity to experience traditional folk games in the Spring Festival which is an annual event of WASS.
I have experienced the Tet atmosphere at WASS with different emotions. Each Tet passing leaves me with unforgettable memories. To me, the WASS Community is my second family since I always have a warm feeling here.
I wish everyone a prosperous, wealthy New Year. 
Happy New Year of the Ox – 2021
Ms. Cao Thi Le Tram – Kindergarten teacher
If anyone ever asks me what Tet is to me, my answer will be the images of happy children in new clothes, red envelopes being shared, beautiful flowers, and family reunions.
Each year as spring comes, the memories and feelings of the new year come back to me. I like the atmosphere of early Tet so much since I have never felt lonely with my beloved students surrounded by me every day. I enjoy hearing them singing, reading the songs or poems I taught them about Tet. I feel so peaceful and I remember the previous Tet holidays when I was not a teacher, and every joyful moment of mine was wrapped with my family. From now on, I have my beloved students by my side. I feel very fortunate to prepare for the New Year with my students.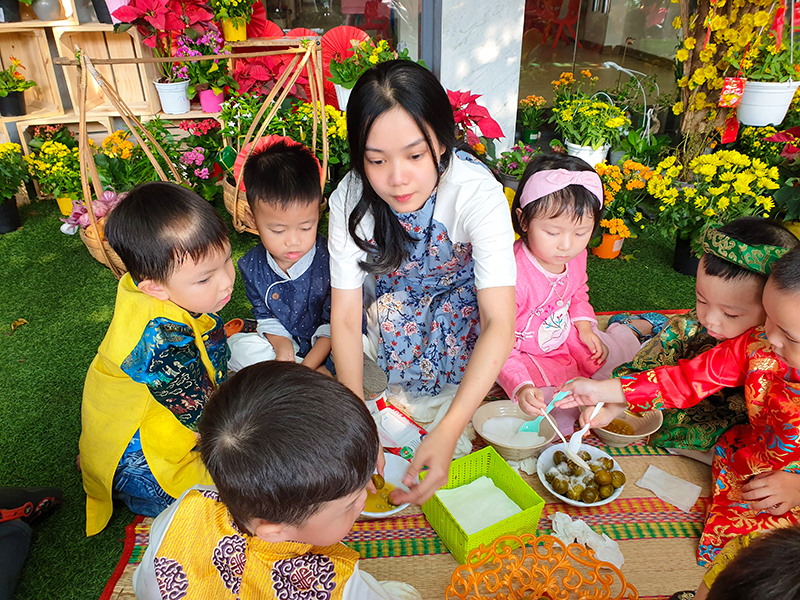 A year full of hardships and trials has passed. And luckily, we are still here together. The 260 Dien Bien Phu Campus has organised to wear a "new colorful shirt" for this Tet holiday.
I wish my lovely students a happy holiday, and that they stay healthy and safe.
Ms. Nguyen Thi Cam Thy – Kindergarten teacher
Western Australian International School System
If you have any concerns, please contact us via: