Welcome New Academic Year 2022-2023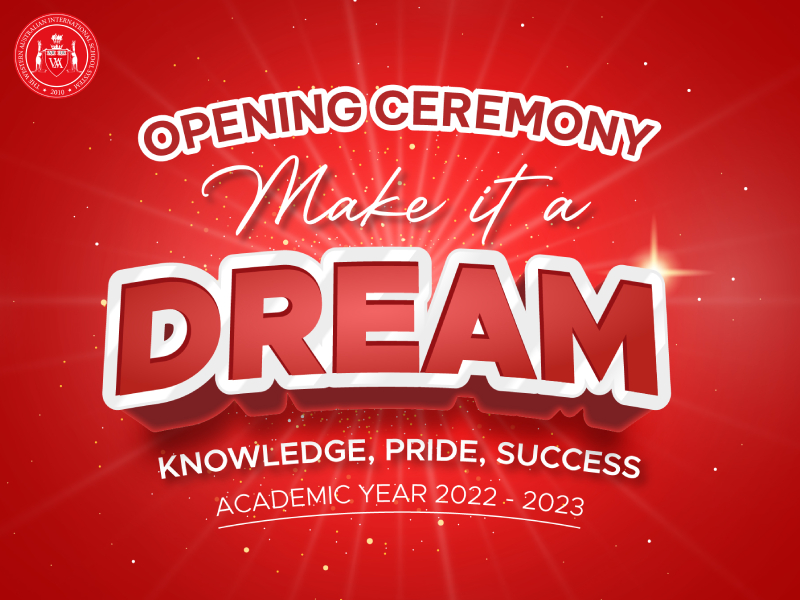 Dear students,
The schoolyard was filled with autumn sunshine and echoing with laughter from the first day of the new school year! Sending greetings to the new school year with love and companionship on the path to knowledge, success and happiness.
The school year 2022 – 2023 will be the next memorable milestone for students to write their own future and bravely conquer those dreams! I hope that you will always light the fire of passion and spread it to members of the WASS community.
Be strong to build your dreams with positive energy and full of enthusiasm to start the new school year excitedly.
Be kind enough to know how to love, sympathize and be yourself in the journey to perfect your personality.
Give and nourish your soul with sharing, generosity and a kind heart on every journey.
Be a global citizen full of creativity and innovation with a constant desire to conquer knowledge and to always shine like stars in your own way.
Be brave enough to dare, dream and strive to conquer your dreams!
With the beauty of knowledge, faith and love, teachers and parents are so happy when we see innocent and pure smiles, the courage to commit and all the fearless students when facing challenges. These things are always the motivation of all teachers and parents when watching the students grow up, day by day.
The 2022-2023 school year has officially started and we will together preserve and promote the precious traditions and brilliant achievements from the previous school years. With the theme of the school year: "Make it a dream", teachers want to give you the best things at the WASS. Let's be creative, passionate about pursuing your goals and focus all your mind and heart into the spirit of learning.
More than ever, I believe all the best will come to you. Regardless of the circumstances, it is always a journey full of love from parents, teachers and friends.
Thank you to all the parents, teachers and students for being a part of this beautiful life! We look forward to having a great school year together!
"The dreams of golden glory in the future will not come true unless, high of heart and strong of hand, by our own mighty deeds we make them come true" – Theodore Roosevelt
Wishing you all meaningful youth days and a brilliant and successful new school year of 2022 – 2023!
Best regards,
Ms. Tran Thi To Nhu – Principal of WASS
Western Australian International School System
If you have any concerns, please contact us via: