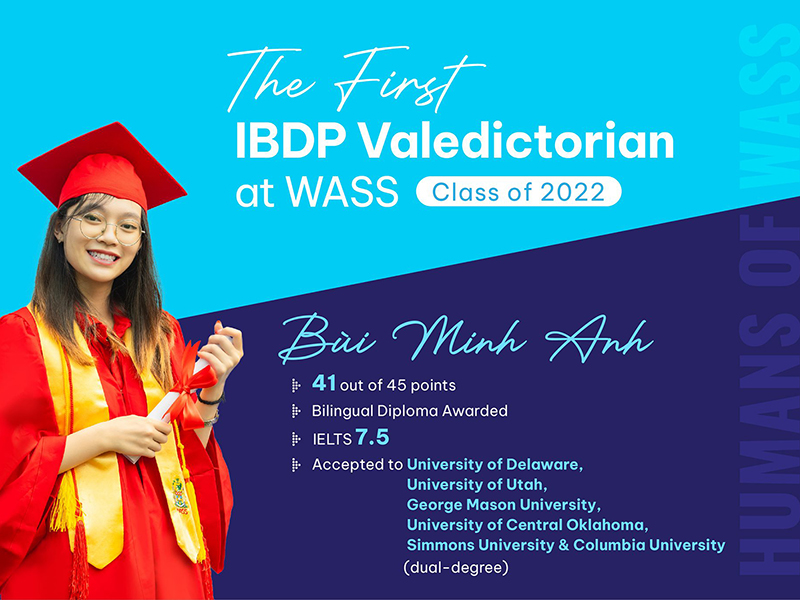 Meet the first IBDP valedictorian of WASS
The first generation of IB students in WASS graduated in July, and the Western Australian School System also recorded the school's first IBDP valedictorian, WASSer Bui Minh Anh. Let's take a look at her remarkable achievements and journey to conquer her prestigious IBDP degree.
A series of remarkable achievements of WASSer Bui Minh Anh:
41 out of 45 IBDP maximum points
Complete the program with a Bilingual Diploma
IELTS 7.5 Overall
Accepted at prestigious universities in the US: University of Delaware, University of Utah, George Mason University and University of Central Oklahoma
Minh Anh will continue her journey at Simmons University with an associate program with Columbia University (the top 3 universities in the US).
Talking about the learning process to prepare for the important exam, Minh Anh shared:
"I was very nervous when I entered this exam when it was the final assessment of my more than 2 years of studying at the IB program. I tried a lot to prepare for this exam with hope I hope to get a good score. Now, I feel very happy and satisfied with my result. My family and some close friends waited with me for the score that day. Therefore, I was also the first to know the score. I'm really lucky that the people who love me are always with me in every special moment in my life.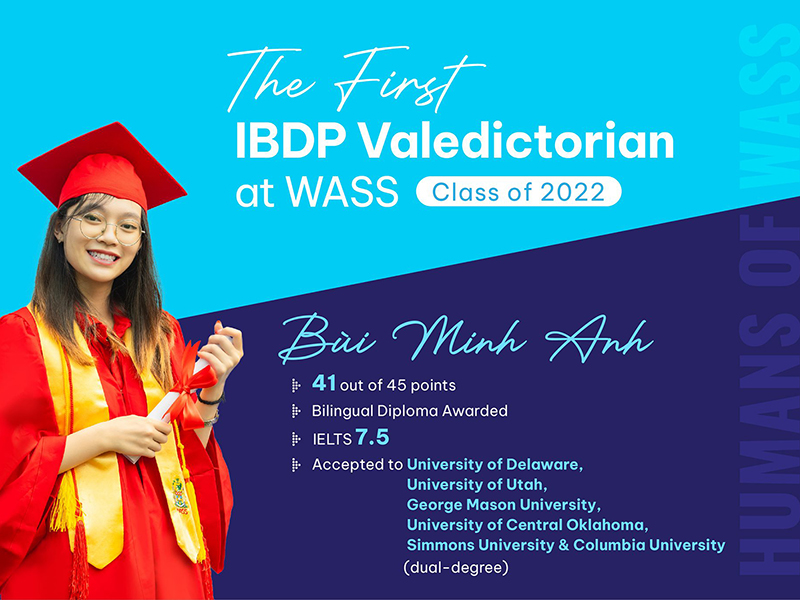 Although the International Baccalaureate program is very difficult and demanding, IBDP has brought me a lot of experiences over the years. The program is designed to help the student to have an open mind as they look at issues from different perspectives. I become more flexible and persistent in studying. Furthermore, one of the three core subjects, Creativity, Activity and Community Service (CAS) helps me balance work and life. Through that, I can take care of my mental health as well as my learning process."
With her outstanding achievements, Minh Anh did not forget to express her gratitude to the teachers who have always graciously taught and cared for her during her years at the school.
"I would like to express my sincerest gratitude to my teachers. Although it was also my first time teaching this program, the teachers helped me a lot to get where I am today. The teachers had to try a lot to help us understand each subject thoroughly, thereby inspiring and motivating me to try harder. I am truly grateful for the efforts and dedication of the teachers over the years. Finally, I would also like to express my deep gratitude to Mr. Stephen Zahra for his advice which motivated me to choose the IBDP program."
WESTERN AUSTRALIAN INTERNATIONAL SCHOOL
If you have any concerns, please contact us.