"Pita said he misses his teachers and friends so much…"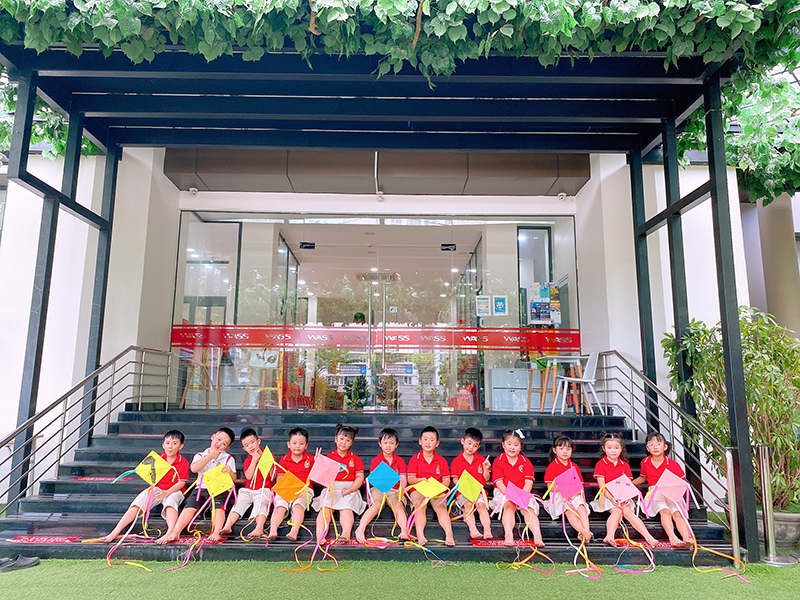 It is unfortunate that the school year 2020-2021 had to end earlier than expected due to the complicated situation of the COVID-19 epidemic. There are many emotions felt by the students when they suddenly have to say goodbye to friends and teachers. Recently, WASS received an emotional letter from the parents of Khuong Bao Tien (Pita) – Kangaroo 2, one of many parents who was a member of the 35 Nguyen Huu Canh Kindergarten campus –  since it was inaugurated.
The sharing of Pita's mother probably speaks for other parents who had their children suddenly leave the school. On the last day of school, there were many students who were in tears and did not leave their teacher when they knew they had to take a break from school. The Board of Principals, teachers and school staff are also sad and miss all the students very much.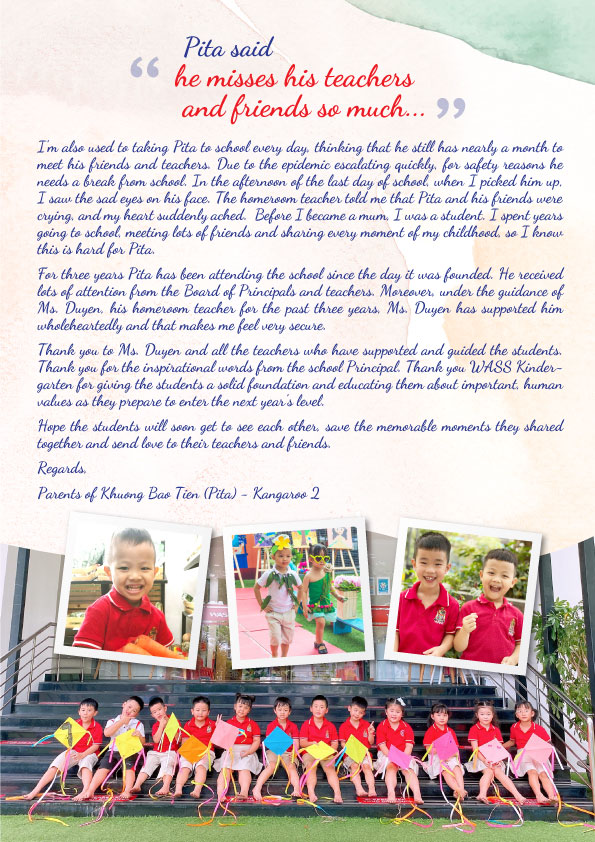 In the past school year, there were times when we had to make adjustments because of the outbreak of the COVID-19 epidemic. However, the students still enjoyed wonderful moments of their childhood with teachers and friends, despite what happened. The learning through many journeys exploring the world around them, participating in interesting activities and lessons that WASS builds for our students will be valuable knowledge for them to grow up and be more confident in the new school year.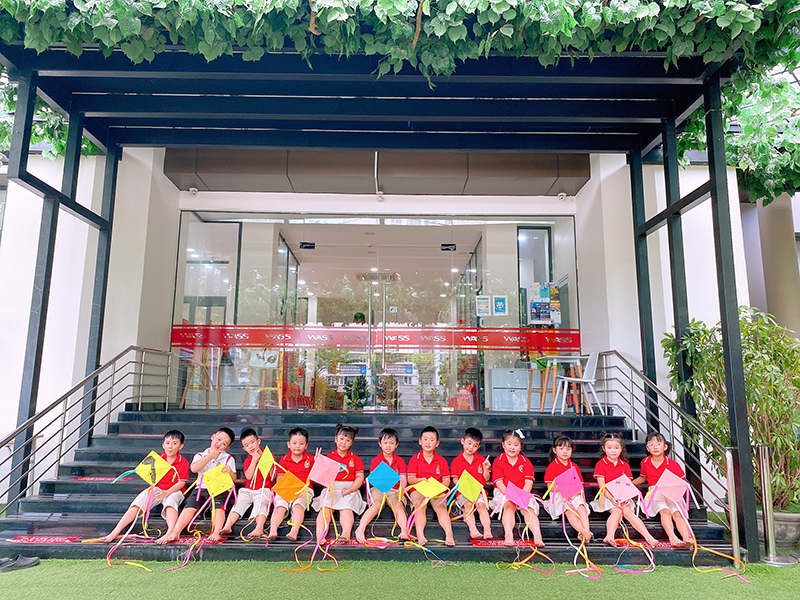 (Kangaroo 2 – Nguyen Huu Canh campus)
WASS would like to thank the sincere sharing from the parents of Khuong Bao Tien, as well as the companionship from all parents throughout this school year. Hopefully, WASS can get to meet our students again soon, so that we can continue to paint the wonderful colorful pictures of their childhood.
———-
Originally shared by the parents of Khuong Bao Tien:
"Pita said he missed his teacher and his friends very much. I'm also used to taking Pita to school every day, thinking that he still has nearly a month to meet his friends and teachers. Due to the epidemic escalating quickly, for safety reasons he needs a break from school. In the afternoon of the last day of school, when I picked him up, I saw the sad eyes on his face. The homeroom teacher told me that Pita and his friends were crying, and my heart suddenly ached.  Before I became a mum, I was a student. I spent years going to school, meeting lots of friends and sharing every moment of my childhood, so I know this is hard for Pita. 
For three years Pita has been attending the school since the day it was founded. He received lots of attention from the Board of Principals and teachers. Moreover, under the guidance of Ms. Duyen, his homeroom teacher for the past three years, Ms. Duyen has supported him wholeheartedly and that makes me feel very secure.
Thank you to Ms. Duyen and all the teachers who have supported and guided the students. Thank you for the inspirational words from the school Principal. Thank you WASS Kindergarten for giving the students a solid foundation and educating them about important, human values ​​as they prepare to enter the next year's level.
Hope the students will soon get to see each other, save the memorable moments they shared together and send love to their teachers and friends.
Regards, 
Parents of Khuong Bao Tien (Pita) – Kangaroo 2 
Western Australian International School System
If you have any concerns, please contact us via: