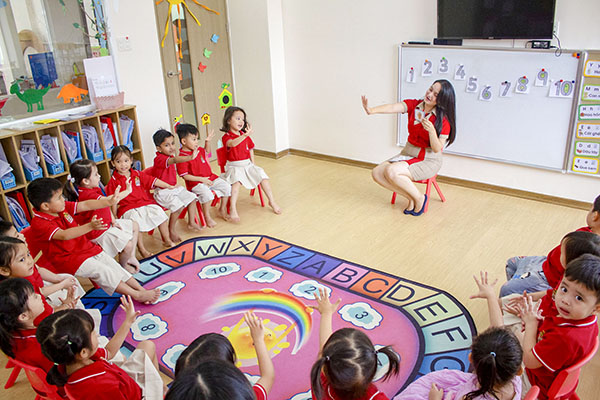 WASS Kindergarten: Accompanying parents in each child's growing up moment
"What can the children learn in Kindergarten at such a young age?" "Will my child be able to adjust to the new environment?" "Is the new school better than the one my child used to go to before?" These are the things that parents keep wondering about when choosing a Kindergarten for their child. Listen to the feedback of those parents who have witnessed the growth of their little angels when sending their children to study at WASS Kindergarten.
"My first impression of WASS Kindergarten on the first day I took my daughter to school was the welcoming and warm atmosphere that I felt on entering the school. After a year of studying in a friendly environment, under the attentive guidance and care of WASS teachers, Phuc An has made positive changes.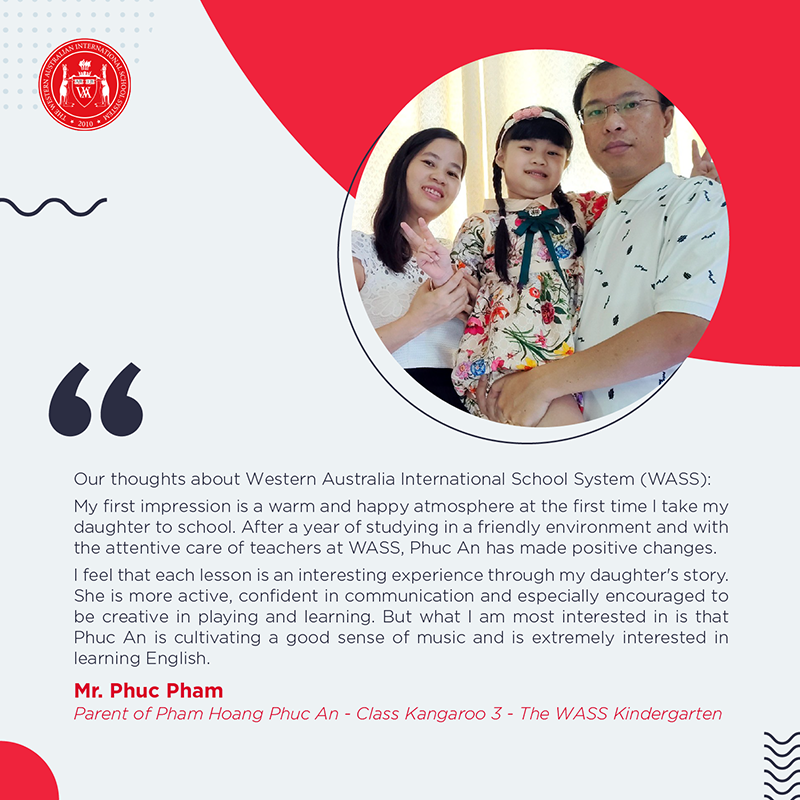 Through my daughter's feedback, I feel that each lesson has been an exciting experience. She has become more active, confident in communication, and especially encouraged to be creative while studying or playing. But what I am most impressed by is that Phuc An is cultivating a good sense of musical rhythm and she has become extremely interested in learning English."
Mr. Phuc Pham, Parent of Pham Hoang Phuc An –  Class Kangaroo 3 – NHC campus
After the first year of being with WASS, we could easily see a couple of positive changes that happened to my son – Panda. Having turned from a little shy kid into an active friendly one, he now loves reading books, recites some poems confidently, he sings songs accompanied with lovely movements in both Vietnamese and English at home. It's very pleasing to see my kid gradually developing polite manners by saying "Thank you", "Sorry", sharing and living in harmony with classmates, especially building up essential skills and often exposing his curiosity with the question "why".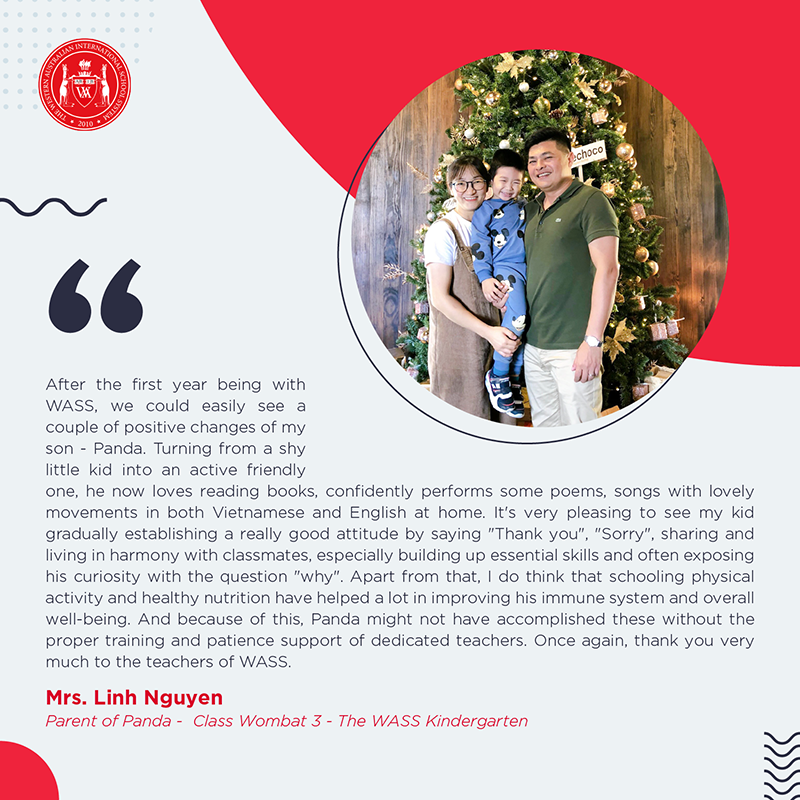 Apart from that, I do think that schooling physical activity and healthy nutrition have helped a lot in improving his immune system and overall well-being. Because of this, Panda might not have accomplished these without the proper training and patient support of our dedicated teachers. Once again, our sincere thanks to the WASS teachers.
Mrs. Linh Nguyen, Parent of Nguyen Dinh Dang Khoa –  Class Wombat 3 – NHC campus 
I didn't expect that my child could learn so many things in Kindergarten. At first, the family was worried about leaving the child in the classroom with the teacher, because, at home, Thien Duc was shy and used to sit alone in the corner. But after a few days of school experience, I saw that he is more agile, cheerful and energetic. After studying at the school for a while, Thien Duc is now bolder, cries less and is more confident compared to when he was at his old school.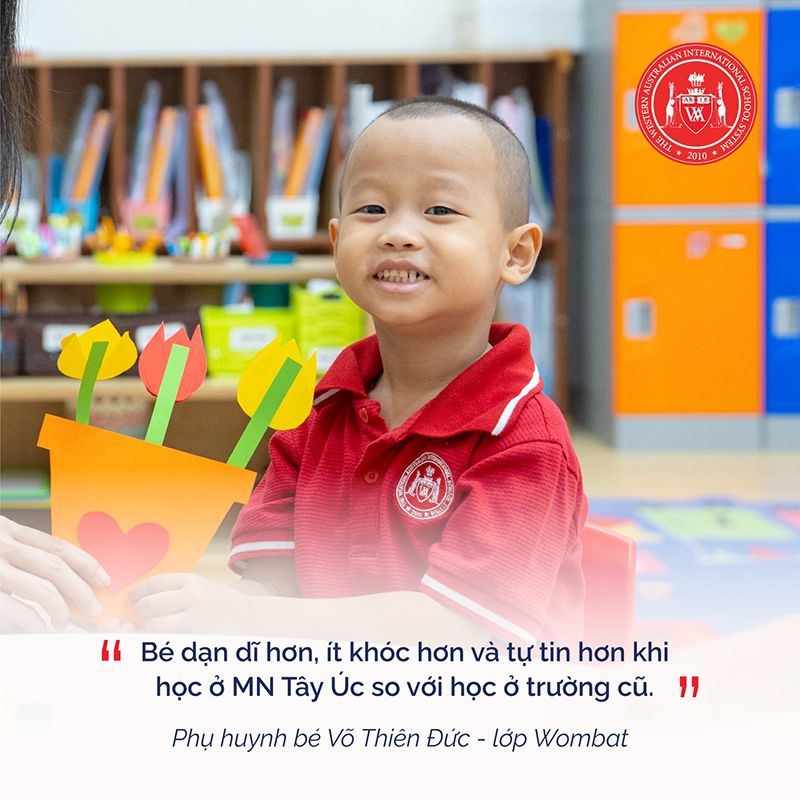 Every day when he comes home from school he shows off paintings from his paint classes, shows me that he knows how to make a strawberry jam sandwich and tells me that all of the teachers love him very much. Thank you for the perseverance, patience and love of the teachers at WASS Kindergarten.
Huyen Nguyen – Parent of Vo Thien Duc – Wombat 2 – DBP  Campus
Thank you very much for the kind comments from the parents. WASS Kindergarten is extremely proud to receive the trust from parents for every moment of their children's growth. The school will constantly strive to fulfill its mission of educating "little geniuses" and fully appreciate every moment of their childhood journey.
WESTERN AUSTRALIAN INTERNATIONAL SCHOOL
If you have any concerns, please contact us.