After two days of competition on August 18th and 19th at the Robot Talent Contest, WASSers entered the final round and were awarded the high achievement in the B4 Open round.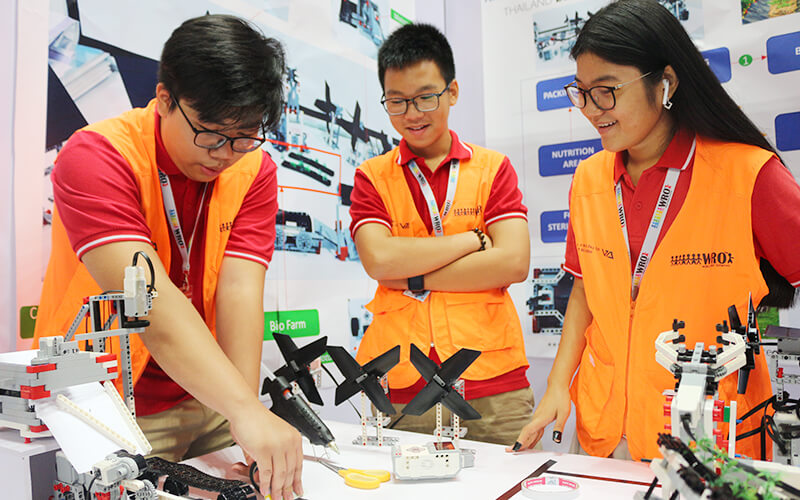 The "Robotacon WRO 2018" is a global contest for students aged from 8 to 20 who are interested in S.T.E.M Robot. This year, with the topic of "FOOD ISSUES", the sixth Robotacon WRO Contest was jointly held by the HCMC Department of Education and Training, Viet Tinh Anh JSC, LEGO Education Brand, and Samsung Vina Electronics Limited Co.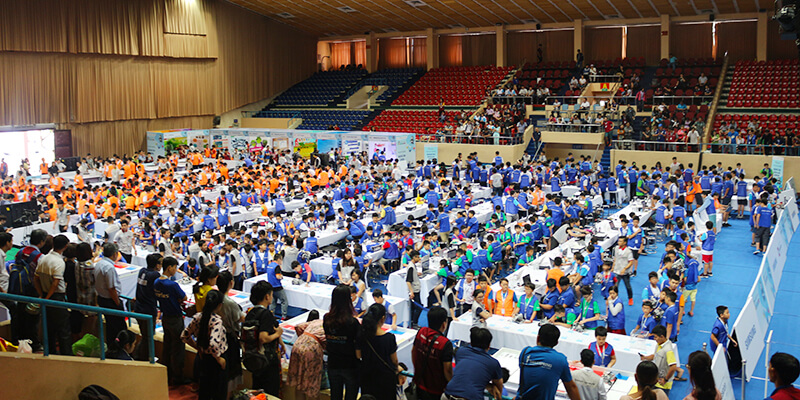 The contest requires candidates to apply their knowledge of STEM (Science, Technology, Engineering, and Math), combined with their skills in designing robots, programming and finding practical solutions based on each round of the contest. Details of the competition are as follows:
The basic round (B1, B2, B3): topics about food saving, farming techniques and food transportation.
The open round (B4): decorating the booth, presenting the business idea and the effectiveness and feasibility of robots in Vietnamese and English.
The Sumo round (B5): Robot Competition
The football round (B6): simulating a Football Match by using two robots for each team on a playing-field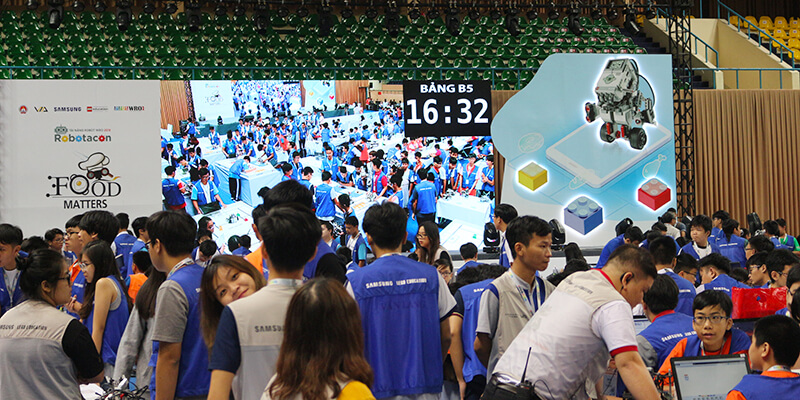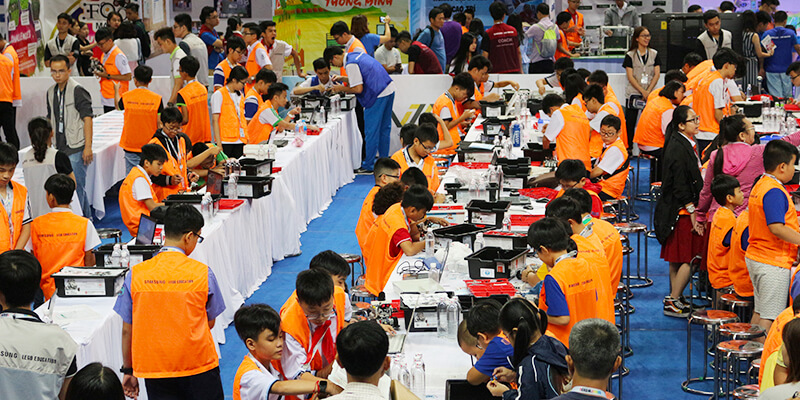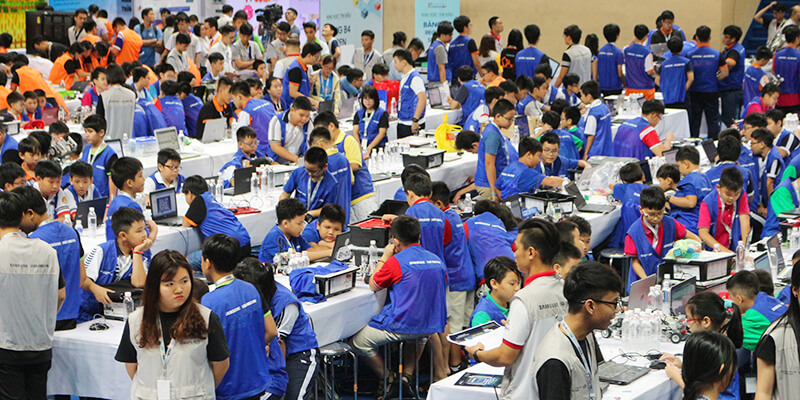 This year's competition was attended by 283 excellent teams, with 770 contestants from more than 100 Primary, Secondary and High schools and Universities across the country. The Western Australian School System had six teams participate in the competition that were divided into three groups B1, B4 and B5. This is summarized below:
– Two teams in Group B1, primary level:
NO
NAME
CLASS
GROUP
TEAM
1
Duong Minh Khoi
5C
B1
STEAM WASS B101
Tran Nguyen Duy Thong
5C
B1
STEAM WASS B101
2
Nguyen Viet Thanh
5C
B1
STEAM WASS B102
Bui Tan Phong
5C
B1
STEAM WASS B102
Nguyen Pham Hien Minh
6A
B1
STEAM WASS B102
– Three teams in group B4:
NO
NAME
CLASS
GROUP
TEAM
1
Nguyen Hoang Nam
6A
B4
STEAM WASS B401
Tran Quang
6B
B4
STEAM WASS B401
2
Vo Anh Khoi
10A
B4
STEAM WASS B402
Le Ngoc Dong Nghi
10A
B4
STEAM WASS B402
Tran Gia Khai
10A
B4
STEAM WASS B402
3
Le Thuong Trac
WA9
B4
STEAM WASS B403
Le Kha Dung
6B
B4
STEAM WASS B403
– One team in group B5:
NO
NAME
CLASS
GROUP
TEAM
1
Dinh Quoc Huy
7A
B5
STEAM WASS B501
Tran Bao Khang
6C
B5
STEAM WASS B501
Group B4 is considered the most challenging group due to the level of critical thinking needed to develop the commercial idea and overall effectiveness of the Robot. Their mission was to apply the creative solution of the robot technologies into supporting the process of cropping, processing and distribution of food. The overall ambition is to promote the stable development of agriculture, which is one of WASS' strengths and the group that most teams competed in.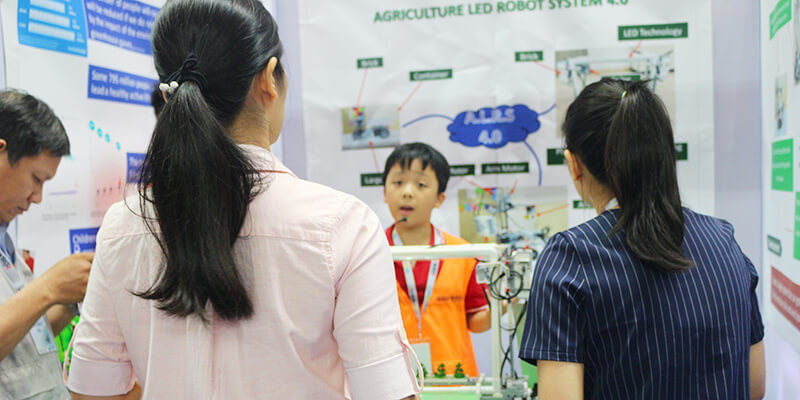 WASSers displayed plenty of effort and resilience to attempt win all the challenges and contests against other teams in their group on 18th and 19th September. A team called STEAM WASS B401 exceled and won all contests against their competitors and won the right to challenge in the Finale. It's a honour that they were awarded the bronze prize in the extended group B4.
WASS congratulates, Nguyen Hoang Nam- class 6A and Tran Quang- class 6B. In addition, all teams of STEAM WASS are honoured and congratulated for taking part in this event, putting their efforts in to make and develop the projects and will learn from their experiences at this event.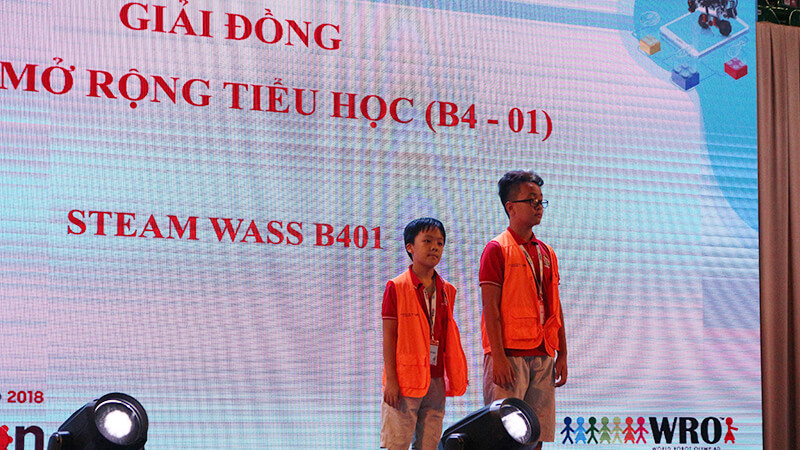 The time spent by the students in researching, forming bonds with their peers and teachers and participating in a range of intense battles with provide many memorable and unforgettable memories WASSers. The competition also provides a playground for students to learn face challenges and understand there is always a solution. Students have gained knowledge and developed a range of new skills from this experience. Once again, congratulations STEAM WASS teams! We are so proud of you!