The 2019-2020 school year marked a change as WASS increased the number of after-school clubs at all its campuses. With a wide range of subjects from many disciplines, the after-school club offers WASS students many options to freely explore the potential of future leaders. Let's listen to what students from WASS themselves feel about their experiences with joining these after-school clubs.
When receiving information about the after-school clubs, I couldn't imagine what I would learn or what club I would select. After researching, I decided to join the Science and STEAM club. I felt they were useful after a week of attending the classes. I have been taught not only about knowledge but also how to have fun after the long hours of study. I was encouraged to learn about 3D shaping in the STEAM club, as well as a typhoon. I also did some simple experiments to make whirling wind. This is very useful to me and I would like to join in all clubs at our school.
Thien Phuc
Grade 3C
Each day at school, after the long hours of study, my friends and I have several choices to join in clubs. There are a lot of interesting and useful activities but my most favourite club is Fun Science.
Coming to Fun Science, my friends and I learn a lot about Science. In class, there are a lot of activities and useful lessons. We also absorbed the knowledge of natural phenomena. We also did some experiments which are interesting. It didn't take a lot of teachers' time to give us the explanation on how to do the tasks.
In this club, each lesson we also do experiments. Each lesson teachers will let students watch what they are going to do today. After that, they summarise the lesson and we do some experiments.
The studying at the Fun Science club brings me useful knowledge. When I come to this class, I feel relaxed. I really like Fun Science.
Minh Triet
Grade 5C
During this school year, I chose to join the Robotic Club. After the regular lessons, every Monday and Wednesday afternoon. I have been feeling excited about joining in Robotics because I wanted to assemble robots for a long time. As I wish, during the lesson, I assembled and practiced with amazingly interesting Lego Mindstorms. Each lesson makes me eager for exploring the new things for this subject. Although the teacher is strict, she usually instructs us to keep up with the difficult steps when assembling the robots enthusiastically. I would like to thank to her secretly and join in the club to gain more techniques of assembling Robot in Robotics.
Nguyen Hong Nhan
Grade 4A
Recently, I have joined Yoga club after the regular lessons at school. I felt that I have learnt many useful things during the lesson in the clubs. Our yoga Teacher performed the very complicated and professional movements including different types of flexes such as longitudinal, transversals and the like which filled us with admiration and interest. Not only did she perform well, but she instructed me and my classmates enthusiastically. In the first couple of lessons, I felt nervous and found it challenging when practicing. Mind me, I got on very well with it and felt very interested in yoga.
Attending the club, I have a chance of making friendship with many schoolmates at WASS. It makes me feel relaxed after the stressful lessons. Besides, I know that yoga is good for our health. I will practice be a hard-working participant, so I can perform with perfect movements like my teacher does.
Nguyen Thi Thanh Van
Grade 4B
At The Western Australia International School System, after the regular lessons, we can join very interesting and healthy clubs such as: Photographer Club, Visual Arts, Hockey, Basketball, and Dance. During my childhood, I really liked drawing so I chose the Visual Art club.
I like these clubs at school because when I study there, I have a chance of finding new friends, and our friendship will be stronger. Studying here lets us save more time than spending time on other art centres. Coming to the Art Club, I was instructed in detail by the teachers here about the layout, the way of mixing colour or to portraying persons, objects, and scenes. Joining this club gave me unique experiences. We explored many good things form these activities in the club such as the types of hot colour and types of cold colour. Since then, we gained knowledge relating to the drawing. Moreover, this club also helps students to develop the skills such as how to draw, how to mix colours and how to draw a lively picture. Based on these skills, we can illustrate ourselves or our sincere family, to recover the daily routine and human activities and animal activities in daily life.
There are a lot of other clubs which I am in, for instance: swimming, chess, Chinese and writing. This allows me to have more choices, because different students have different interests, don't they?
I think that Art club helps us to study, develop our skills, and also makes us relaxed after long hours of studying stressfully. It is like a meal for our soul which I wish to enjoy every day. During the time of practicing, playing music is the most fantastic way to encourage students to study. This allows us to relax and feel comfortable which lets us paint the lively and beautiful pictures.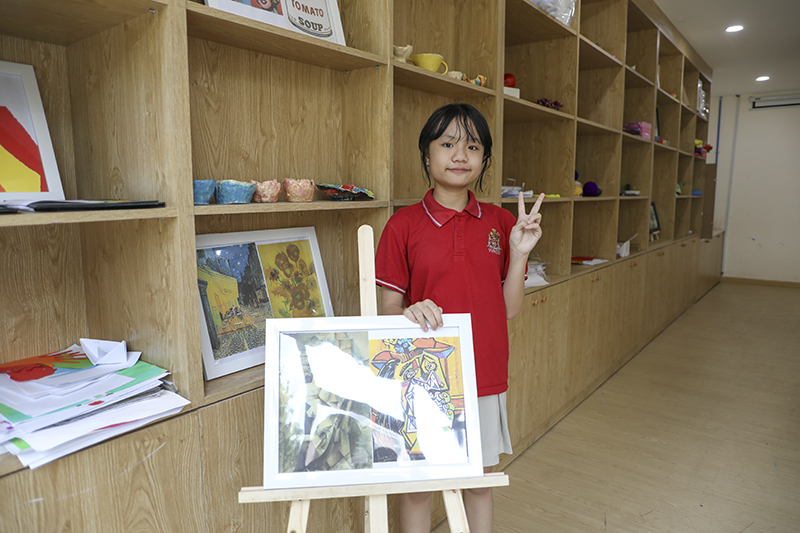 Trinh Nhi
Grade 6A
After school time, I signed to join in the after-school clubs. Every time when coming to Drawing and Photography club I feel excited.
Drawing is the thing allows me to express my imagination and creativeness of mine and growth at different high levels. Confidence and drawing whatever I like is the things the club brings to me. In the past, every time my family has an outdoor trip, I usually take one pencil and a notebook in order to draw on existing pictures or draw with simple strokes. I couldn't draw a lot or beautifully but it nurtures my passion about arts. Now, joining the club and being instructed in details, I can make better and more delicate shapes such as animals, fruits, and humans. I have my own pictures and don't need to trace existing pictures.
In the photography club, I realised the beauty in the soul of animals, flowers, and landscapes. My teacher taught me how to take a beautiful and lively photo. He also taught me about the "dos and don'ts" in order to take perfectly impressive photos. When taking a photo, I was instructed how to do make exposure points for the face. He also let us practice about the way of taking photos and then gave an assessment that measured our progress. The photography club is active and I often bring a camera and take photos together with my homeroom teacher and classmates. I feel very happy because everyone likes my pictures.
Clubs make me feel more confident and allow me to express my passions. Drawing is the subject that needs the creativeness at the highest of levels. Photography is the subject that demonstrates the beauty of the photographer's soul. I really like the clubs held by the school. I will come to all lessons, and I will strive to study hard to know more about interesting things.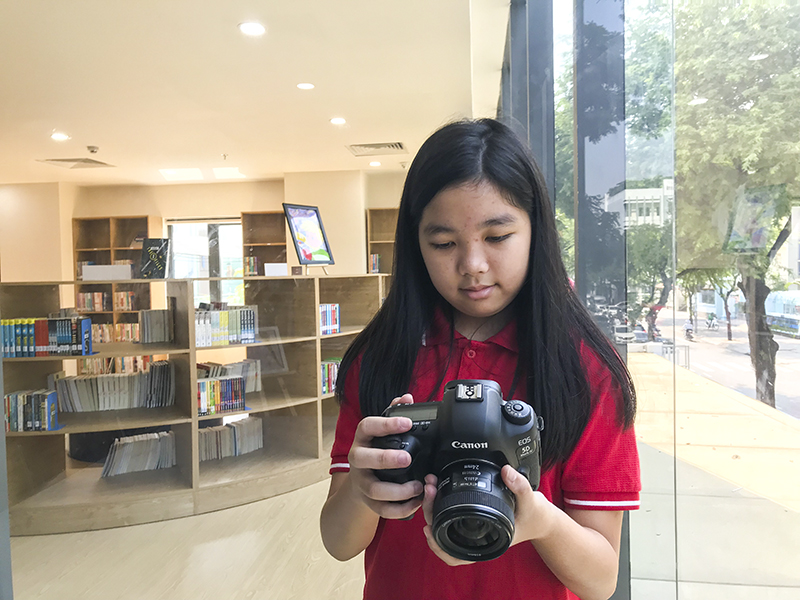 Nguyen Ha Quynh Anh
Grade 6D
At WASS, coming to school is not only for academic performance, and acquiring new knowledge, but also creating the new space and spare time for the students to experience, explore and know more about their interests and passions through the lessons in the After-school Clubs.
Understanding the desire for useful ways of relaxation after school time, as well as the trust and support of parents, WASS has opened the clubs which are suitable for students' experiences and explorations: Robotics, Ballet, Chess, Maths, Leadership and Yoga are some examples. The students have a chance of nurturing their logical thinking or their physical status including their stamina and strength, through the lessons in these clubs, the lifelong skills developed through these lessons also assist students during their schooling period.
We – the Teachers of WASS will strive our best to create more joy in study for our students, as well as help them to follow their dreams and their reach their potential.
Dinh Quynh Nhu
Homeroom Teacher of Grade 1J