INTRODUCTION TO IBDP
The International Baccalaureate (IB) Diploma Programme is an internationally recognized curriculum, designed for secondary school students between the ages of 16 and 19 years that aims to foster internationally-minded and well-rounded students.
The DP curriculum is the best preparation for those who are moving onto further education as it produces young adults with a broad academic base, inquiring minds and diverse social interests. It is respected by leading universities across the globe.
THE IB MISSION STATEMENT
The International Baccalaureate aims to develop inquiring, knowledgeable and caring young people who help to create a better and more peaceful world through intercultural understanding and respect.
To this end the organization works with schools, governments and international organizations to develop challenging programmes of international education and rigorous assessment.
These programmes encourage students across the world to become active, compassionate and lifelong learners who understand that other people, with their differences, can also be right.
IB LEARNER PROFILE
The aim of all IB programmes is to develop internationally minded people who, recognizing their common humanity and shared guardianship of the planet, help to create a better and more peaceful world.
IB learners strive to be:
Inquirers – They develop their natural curiosity. They acquire the skills necessary to conduct inquiry and research and show independence in learning. They actively enjoy learning and this love of learning will be sustained throughout their lives.
Knowledgeable – They explore concepts, ideas and issues that have local and global significance. In doing so, they acquire in-depth knowledge and develop understanding across a broad and balanced range of disciplines.
Thinkers – They exercise initiative in applying thinking skills critically and creatively to recognize and approach complex problems, and make reasoned, ethical decisions.
Communicators – They understand and express ideas and information confidently and creatively in more than one language and in a variety of modes of communication. They work effectively and willingly in collaboration with others.
Principled – They act with integrity and honesty, with a strong sense of fairness, justice and respect for the dignity of the individual, groups and communities. They take responsibility for their own actions and the consequences that accompany them.
Open-minded – They understand and appreciate their own cultures and personal histories, and are open to the perspectives, values and traditions of other individuals and communities. They are accustomed to seeking and evaluating a range of points of view, and are willing to grow from the experience.
Caring – They show empathy, compassion and respect towards the needs and feelings of others. They have a personal commitment to service, and act to make a positive difference to the lives of others and to the environment.
Risk-takers – They approach unfamiliar situations and uncertainty with courage and forethought, and have the independence of spirit to explore new roles, ideas and strategies. They are brave and articulate in defending their beliefs.
Balanced – They understand the importance of intellectual, physical and emotional balance to achieve personal well-being for themselves and others.
Reflective – They give thoughtful consideration to their own learning and experience. They are able to assess and understand their strengths and limitations in order to support their learning and personal development.
THE IB DIPLOMA CURRICULUM MODEL
The IB DP Curriculum model consists of six subject groups and a core programme.
IB diploma students are required to study six subjects chosen from the six subject groups concurrently for two years. A student has to take at least one subject from each group except for group six (arts and electives), which allows the option of taking another subject from groups 1 – 4.
At least three (no more than four) subjects are taken at higher level (240 teaching hours), while the other subjects are taken at standard level (150 teaching hours). The choice of SL and HL courses is based on students' interests, strengths, and future plans.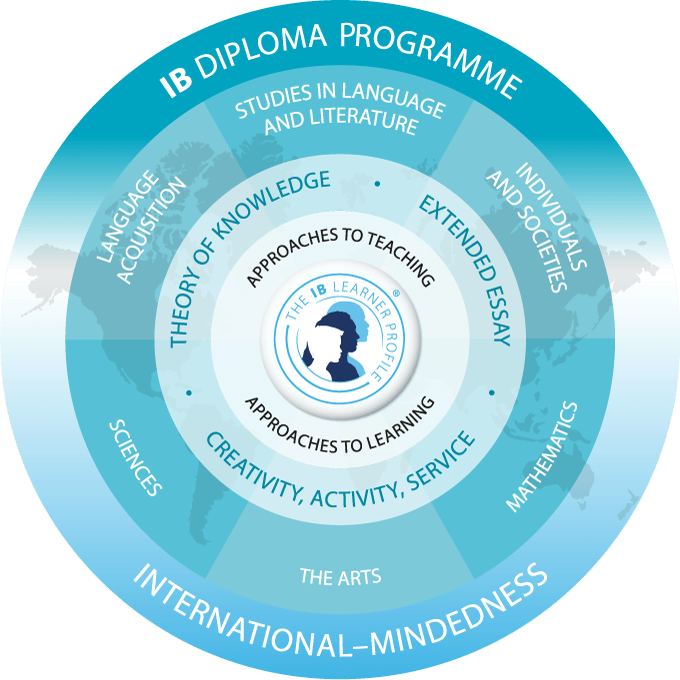 ASSESSMENT IN DP
The IB uses both external (by IBO) and internal assessment (by the school) in the DP.
Internal Assessment (IA) are specific to each subject and are marked by the subject teacher and then moderated by the IBO. This includes:
Oral work in languages
Fieldwork in geography
Laboratory work in the sciences
Investigations in mathematics
Artistic performances
External Assessment (EA) usually takes the form of 2 or 3 examination papers for each subject. They include:
Essays
Structured problems
Short-response questions
Data-response questions
Text-response questions
Case-study questions
Multiple-choice questions – though these are rarely used
EARNING THE DIPLOMA
Each IB subject is assessed on a scale of 1 – 7 with a score of 4 considered a "passing grade". This score is calculated based on a combination of internal and external assessments throughout the 11th and 12th grade years.
A total of six subjects must be studied, with a combination of standard and higher levels (SL and HL). Students must also complete the "core", which is made up of Creativity, Activity, Service (CAS), Theory of knowledge (TOK) and Extended Essay (EE).
Each subject is graded from 1 – 7 and the combination of TOK and the Extended Essay can contribute up to 3 points to the Diploma. A student can be awarded up to 45 points.
The additional requirements are the following:
CAS requirements have been met.
There is no "N" awarded for TOK, the EE or for a contributing subject.
There is no grade E awarded for TOK and/or the EE.
There is no grade 1 awarded in a subject/level.
There are no more than two grade 2s awarded (HL or SL).
There are no more than three grade 3s or below awarded (HL or SL).
The candidate has gained 12 points or more on HL subjects (for candidates who register for four HL subjects, the three highest grades count).
The candidate has gained 9 points or more on SL subjects (candidates who register for two SL subjects must gain at least 5 points at SL).
The candidate has not received a penalty for academic misconduct from the Final Award Committee.
THE CORE
All Diploma Programme students participate in the three course requirements that make up the core of the hexagon. Reflection on all these activities is a principle that lies at the heart of the thinking behind the Diploma Programme:
THEORY OF KNOWLEDGE (TOK)
THE EXTENDED ESSAY (EE)
CREATIVITY, ACTIVITY & SERVICE (CAS)
Strongly committed to the principle of developing the whole person, the IB believes that this is best achieved by identifying and developing clearer and more explicit aims for, and relationships between, TOK, CAS and the EE.
Specifically, the IB believes a coherent view of the core
Supports the interconnectedness of learning
Supports concurrency of learning
Supports the IB continuum of education and the learner profile
Supports a broader view of the subject disciplines
Coherence does not mean similarity. Coherence in this context refers to the three elements of the core complementing each other and working together to achieve common aims. The core aims:
To support, and be supported by, the academic disciplines
To foster international mindedness
To develop self-awareness and a sense of identity
SUBJECT CHOICES
Over the course of the two-year IB Diploma Programme, students study six subjects chosen from the five subject groups, complete an Extended Essay, follow a Theory of Knowledge (TOK) course, and participate in Creativity, Activity, Service (CAS).
WASS is offering:
(Group 1) Studies in Language and Literature
● English A: Language and Literature – Higher Level (HL)
English A Language and Literature – Standard Level (SL)
Vietnamese A: Literature – Higher Level (HL)
Vietnamese A: Literature – Standard Level (SL)
(Group 2) Language Acquisition
English B – Standard Level (SL)
English B – Higher Level (HL)
French ab initio – Standard Level (SL)
(Group 3) Individuals and Societies
Business Management – Higher Level (HL)
Business Management – Standard Level (SL)
Economics – Higher Level (HL)
Economics – Standard Level (SL)
(Group 4) Experimental Sciences
Biology – Higher Level (HL)
Biology – Standard Level (SL)
Chemistry – Higher Level (HL)
Chemistry – Standard Level (SL)
Physics – Higher Level (HL)
Physics – Standard Level (SL)
(Group 5) Mathematics
Mathematics: Analysis and Approaches – Standard Level (SL)
Mathematics: Analysis and Approaches – Standard Level (HL)
Mathematics: Applications and Interpretation – Higher Level (HL)
Mathematics: Applications and Interpretations – Standard Level (SL)
Read more about IBDP Subjects and Assessments