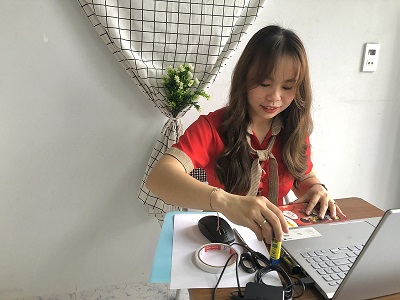 Letter from Homeroom Teacher in New School Year
WASSers have officially entered the 2020-2021 school year with great confidence and get ready to conquer new knowledge heights. Just like students, teachers also have a lot of emotions in the new school year.
My beloved students, how are you? I hope you and your family are always healthy and safe because that is the most important thing at this time.
You probably miss our school's hallways, your beloved classmates, teachers and classrooms as well as the first day at school that you've been looking for. However, due to the current situation, we cannot make it complete when the COVID-19 is no longer just in the US and India, the pandemic has crept into our city.
Therefore, this back-to-school season, let's postpone exchanging our hugs, and save them for the day we meet again. Instead, let's take good care of yourself, follow the 5K rules, strictly isolate at home, and help your family from the smallest things.
Other teachers and I will help you learn and adapt to online classes. I know this change is difficult, but in this hard time, we have the only choice of being heroes. And together, we can conquer the knowledge like every child in the world right now. I am always here, helping you.
I am even more excited with all the plans for our classes. I hope that all of you are ready for this school year. With the love of the teachers here, I believe we can have a special school year with lots of fun and benefits.

Pham Thi Mai – Class 2B, NT Campus
Dear Students,
The new school year has started. As usual, this is the time when children are most anxious because they are about to go to school, meet their teachers and friends again after many days apart. But now, that joyful anticipation is bursted due to the pandemic. You cannot meet teachers and friends directly, have to attend the online opening ceremony instead of a solemn one and come back to distance learning.
Although such learning has many difficulties, you should try to be more active to overcome these obstacles. As you all know, the COVID-19 is also a real-life context that demonstrates learning beyond the classroom. In today's technology era, your generation has a methodical online learning support system with the daily companion of teachers through applications: Schoology, Class Dojo, Google Classroom, … or even online learning programs.
As long as you have an active study plan, I believe that you will maintain your study habits, master your knowledge and not be sluggish when you return to school. During the learning process, you can interact with teachers and friends, discuss and exchange with each other via phone calls, text messages or the platform that our school has supported. Besides, you can hone helpful skills by helping parents with cooking, cleaning, and planting trees. Or, you can read your favorite book and do everything that you are passionate about.
And everything is even better when you can share them with family.
Life is always moving, always setting higher and higher requirements and will always bring unexpected challenges to help each of us develop. And you must learn to overcome those difficulties. Only when you choose the right key will the door to success open. And that golden key can only be "self-study"! Change yourself, actively seek knowledge in many ways and from many sources, do not just rely on the transmission from teachers. You are like candles, teachers are the ones who light the fire, but if you want to shine for a long time, you have to rely on yourself. I would like to convey to you the saying: "Be strong, resilient, careful and aware to prevent COVID-19 for yourself and your loved ones. Give joy every day, raise your hands when someone needs help. And you should be proud to be a member of the school called Western Australia to always aspire to rise together, to build a happy and healthy educational environment."
I hope that, in this school year, you will be active and hardworking, accumulate and absorb the knowledge to prepare a stepping stone for success.
Nghiem Nguyen Doan Khang – Class 9B, BHTQ Campus
Hello, Bonjour, Xin chào,
"Every year at the end of autumn, the leaves on the street fall and the clouds…. my heart is filled with immense memories of the first day of school." I want to use the words of Thanh Tinh to "draw" and reminisce about one of the most important moments in a student's life: the first day of school.
In August and September every year, WASSers are excited to buy new clothes, new school bags, and meet new friends, new teachers. The feelings of the first day of school in a new school year will last forever that each of us will carry throughout the journey of adulthood. This school year will be a very special back-to-school season, the most profound memories for every WASSers when the whole world is being "attacked" by the COVID-19. As our beloved city is getting sick, we cannot go to school to meet each other directly, to exchange hugs after so many summer days apart. But I am sure, we will still have extremely interesting, rewarding and unique learning days.
All teachers will always be companions on every journey you take. And you will always have our dedication and enthusiasm in this special journey. So, please don't worry!
Each issue has its pros and cons. The same goes for online learning. In this difficult time, you will always "see" the interesting aspects of technology, from the non-stop creativity of teachers and most importantly, you will find the " extraordinary" in yourself.
I often tell my students that success is not about winning over anyone else, just overcoming yourself.
If you find it difficult to absorb knowledge when learning online. Why not change the way you study, and rearrange your timetable?
If you feel bored because you can't talk to friends like in face-to-face learning. Why don't we take advantage of technology to connect remotely?
What if you find it inconvenient not to go back to school like every year? Why don't you change your perspective that this opening ceremony is so unique?
Sometimes, difficulties will become easy when we change our perspective, change our thinking and start taking action. Everything will be Possible when we try to find a way.
To prepare for online learning, I hope you will be confident in yourself, and believe that everything is possible since each of you are special.
Welcome to a special new school year at WASS!
Ms. Linh Doan – LCT Campus
Dear my little angels,
It's been a long time since we've seen each other! Do you miss me? Do you miss your friends?
Waking up this morning, I realized that it was another day without hearing your laughter, your frolicking, and calling "Cô, cô ơi!" like every day. Suddenly I felt sad and missed you so much.
Did we miss something……
Is it a warm hug and kiss, or countless memories during the journey we went through together?
On this day last year, we were reunited after so many days apart because of the Covid-19 pandemic. However, this school year, we missed our exciting summer as well as the first day of school……
My eyes shred into tears when writing this.
I know, if you were here, there would be thousands of questions like "what's wrong?" or "are you okay?" from you. And my answer would be "because I only long for the day to see you all again."
The start of the 2021-2022 school year is really special, isn't it? That's when we can experience new educational methods together which promise to bring a school year full of interesting things for all of us.

Don't worry, this school year's opening ceremony was different without seeing each other, but we will definitely continue this adventure together.
I believe that one day we will be able to return to school – a "home" that gives you a wonderful childhood and a happy memory. You are growing up really fast and step into higher grade just like a blink of an eye.
Perhaps in the years to come, you will forget me, but one thing is for sure that I will still be here, will still follow your every step and hope you will always be healthy, strong, and confident on the way to conquer knowledge. Finally, I hope that we all have a very successful school year.
See you soon kids!
Always love you.
Nguyen Thi Mong Duy – NHC Campus
WESTERN AUSTRALIAN INTERNATIONAL SCHOOL
If you have any concerns, please contact us.