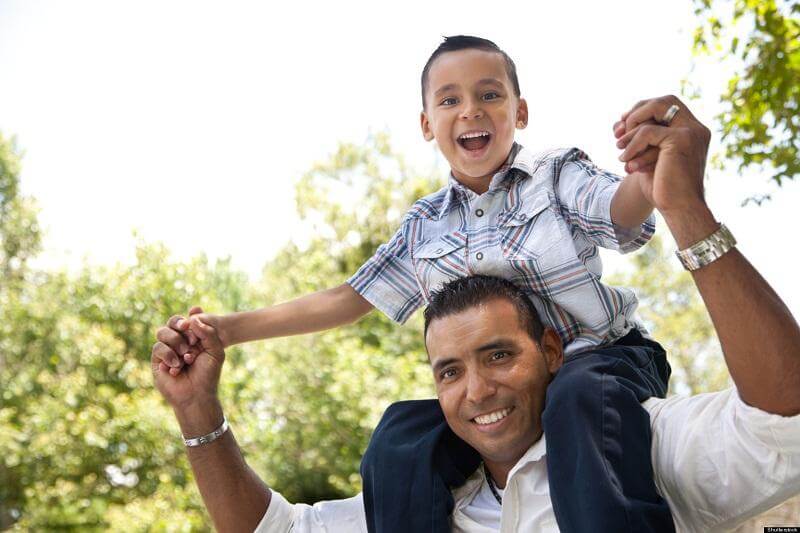 How to utilize time effectively with your children?
How much time you spend each day to be beside your children? Have you ever thought and asked yourself the same question?
Let's do a simple calculating! In your twenty four-hour day, you spend eight hours for sleeping, eight for work, the rest eight for dining, entertaining and family. And in this eight hours, how many hours do you use to chat, or simply to play with your children?
Currently, many parents tend to send their children to boarding school. At home, they entrust maids in taking care of their children from eating, personal activities to learning and sleeping. The busy life has built an invisible wall between parents and children. Parents can provide children a life with good food, clothes and school… But whether those conditions can replace their affection and presence in children life? In this sense, WAPS will offer parents suggestions or helps to use time with children effectively.
1. Chating when taking children to school
Driving children to school is the daily routine of parents. Remember this is the precious time to be with children. Thus, parents should make the best use of this valuable opportunity to talk and share with children. For example, you can ask about the class: What did you learn today? Was it happy? How was your score? Instead of rushing to be home, you should slowly drive and make the way home an interesting jaunt.
2. Create opportunities to talk with children
Ms. Thanh Thuy (District 1, HCMC), said: "I go to work all day and prepare meals for the whole family at home so that I have not enough time to talk with my child." Or as the case of Mr. Minh's family: When he's at home late after work, his daughter, Thy, has slept already. In the morning, he takes Thy to school so that he have no time to play with her.
Parents are usually very busy so sit and talk with children is too difficult. Hence, parents should take advantage of every opportunity such as mealtime, bathing for children, lulling, or going to the supermarket… to talk. For instant, in diner, parents and children can eat and talk about a favorite movie.
This is also an opportunity for parents to evoke children telling their stories.

3.Turn off all electronic devices when being with children
Nowadays, a lot of fathers, mothers entrust their children to grandparents, maids. They take much time to surf webs, watch movies… without playing with their children. Obviously, the electronic devices are replacing parents' attention and education.
Technology brings human life with more and more convenience but it will replace the role of parents if being overused. Hence, parents should turn off all electronic devices, spend whole time to play and talk with children.
4. Play a certain sport with your children
Involving your children in a certain sport is a great way to have more time with them. Parents should arrange just about "half an hour" in a week to teach kids playing appropriate games such as football, badminton, tennis, basketball…
Exercising with the whole family is not only to have healthy life but also to create an opportunity for parents and children together.
5.Make plan for weekends with whole family
If you are too busy in weekdays, make a plan for an outing on weekends. Leaving the pressures of work, immersing in nature with your famlily is the best way to find the true meaning of life.
Camping, walking in the park, going to entertainment centers are interesting trip for the whole family. This is also an opportunity for parents and children to be together more closely.
In this busy life with lots of worries, many people forget that the happiest moment is when the whole family is together. To help parents can effectively utilize time with children, balance between work and family, WAPS will organize a seminar named "An Hour A Day" with the sharing of Master Tran Dinh Dung. Hopefully, this workshop can help parents understand the methods of time management, to shorten the distance between parents and children.
Seminar Information:
Topic: "An Hour A Day"
Speaker: MA Tran Dinh Dung
Time: 9a.m – 11a.m – Sunday, April 5th, 2015
Location: Indochina Tower's Hall, 157 Ly Chinh Thang, Ward 7, District 3, HCMC.
Hotline: 0963.999.701 – 0963.999.702 – 08.6290.5076. 50 first parents register will receive a FREE ticket joining Kizworld costed 220.000VND
WESTERN AUSTRALIAN INTERNATIONAL SCHOOL
If you have any concerns, please contact us.