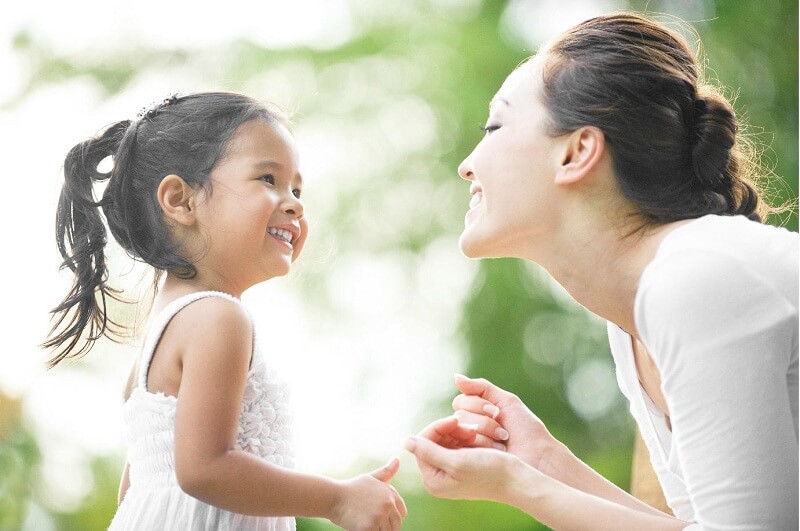 How much time for children is enough?
In the busy life, many parents think that just providing children with good condition of living and learning is enough. However, what children need most from their parents is family reunion moment.
1. Parents "neglect" make children autistic
Due to busy works, parents can not spend more time for their children. To compensate, they tend to meet children's needs of toys, clothes, good schools… However, they forget that the best way to educate their children is to be always by their side.
Throughout many years included examination in psychological clinic, Ms. Mai Ha (District 5) was penetrated her mistakes. During the time her husband taking higher education in US, she left the maid guiding her first daughter to operate the family business. Mai Ha said: "because the maid let my daughter watching cartoon much, she behaves like cartoon characters. She is four but has not talked well and slowly grown".
According to experts, alongside some truly autistic children, there are some have the abnormal behavior, deviated growth because of being "neglected" for a long time. For children to not suffer from autism, parents should let children watching television, using computer, smartphones… in limit. In addition, talking and playing with them is also an effective way to help.
2. Taking care of children is not an easy task
In modern life, the physical demands of human are increasing. To meet this need, people have to work more. Apart from the main working time and overtime, parents must balance their time to pick up, prepare meals, teach children… Thus, adults always prioritize working, earning money as the most important master instead of sharing and playing with their children.
During daughter's treatment period, Ms. Mai Ha had to resign, spent more time on taking care of her daughter. "I took much time to guide her playing out, visiting many people, listening and talking with her. And I realize that it's not easy to play with my daughter at all. Listening to her, answering her questions made me feel very tired, especially when my work was stressful. And I realized that she needed to talk to parents. Playing with children, immersing in her world is more difficult than turning on the television or phone and let her alone."
"How much time for children is enough?" seems to have no answers. One hour a day for talking with children, sharing and confiding together is enough. In contrast, many parents mistakenly think that keeping their children all day in control can help children well-developed. What children need sometimes is not material, but the proper attention and emotional support from their parents.
To help parents easily share with children, on April fifth upcoming, WAPS will organize a seminar named "One hour a day" with the participation of MA Tran Dinh Dung. In this busy life with lots of worries, many people forget that the happiest moment is when the whole family is together. Through this seminar, parents will be shared experiences of effectively utilizing 60 minutes per day with their children, as well as tips to help balance work and family to have the long-lasting happiness.
Seminar Information:
Topic: "An Hour A Day"
Speaker: MA Tran Dinh Dung
Time: 9a.m – 11a.m – Sunday, April 5th, 2015
Location: Indochina Tower's Hall, 157 Ly Chinh Thang, Ward 7, District 3, HCMC.
Hotline: 0963.999.701 – 0963.999.702 – 08.6290.5076. 50 first parents register will receive a FREE ticket joining Kizworld costed 220.000VND.
WESTERN AUSTRALIAN INTERNATIONAL SCHOOL
If you have any concerns, please contact us.