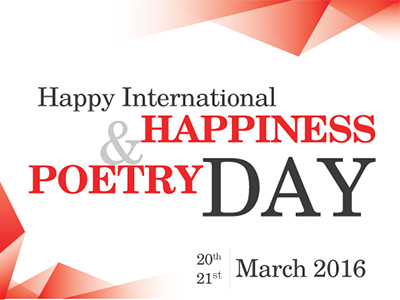 Happiness poems, displayed in a poetry exhibition 2016 at WASS
From the 20th – 21st March 2016, an exhibition about world famous poets and happiness poems will be displayed at the Western Australian International School System (WASS). This meaningful activity is to celebrate International Happiness Day (20th March) & World Poetry Day (21st March) and to nurture the inner beauty in our students' soul. It's also aimed to honor those who have given us emotional and lively poems.

This is the first time that WASS celebrates these two special events together. With a message "No matter what language, poems carry a noble mission that brings beautiful things into people's soul, helps us to appreciate our life and to live better day by day; happiness will only be completed when we learn to share it with everyone", WASS hopes to educate young generations to become comprehensive global citizens who have high moral values and beautiful things in life. Let's honor meaningful poems at WASS with this special exhibition!
[pb_box icon="app.png"][pb_box_text]
International Day of Happiness (20th March) originated in the 70s to XX, in Bhutan – a country that acknowledges that happiness is more important than the nation's income. More and more, happiness has been highly esteemed in many countries. Every year, an evaluation of how happy people are in countries around the word is conducted by the Sustainable Development Solutions Network (SDSN) of United Nations. Last year, Vietnam ranked 75 out of 158 on happiness index, while Switzerland is considered as the happiest country in this planet.
21st March was chosen as World Poetry Day at the 30th session of UNESCO (United Nations Educational Scientific and Cultural Organization) in Paris, 1999. This day was organized to emphasize the role of poetry in human life, to encourage people, especially young generations to learn about poetry. Besides, it promotes language diversity through emotional poems and takes this opportunity to preserve languages that are nearly extinct.
Source: Tuổi trẻ[/pb_box_text][/pb_box]
WESTERN AUSTRALIAN INTERNATIONAL SCHOOL
If you have any concerns, please contact us.