Early Years Program (2 – 5 years)
The WASS Kindergarten program is a combination of the Vietnamese Ministry of Education and Training program and the Western Australian curriculum framework, which ensures a balance between lessons and play time-based on age, year level, and physiological age.
At WASS, each student is considered a unique individual with different personalities and characteristics. The curriculum is designed to encourage students to constantly learn and feel the world around them in a safe environment where children are supported to form their own personalities. In addition, the program also focuses on developing and maintaining friendships. By exploring their feelings and emotions, students will develop their self-control, creativity, politeness, respect, and interest in the surrounding community.
Five learning outcomes of WASS kindergarten program
The program focuses on personal perfection and social skills, as well as the knowledge, language and numeracy skills based on the five learning outcomes of the Western Australian Kindergarten program.
INDIVIDUAL IDENTIFICATION
Students learn the skill to identify problems and resolve them independently.
COMMUNITY CONNECTION
Children integrate, connect, and create the world surrounding them together.
STUDY AND LOGICAL THINKING
Students will learn to be confident and enthusiastic about their studies.
HEALTHY DEVELOPMENT
Children can absorb, think, act and develop naturally and enthusiastically.
CONFIDENT COMMUNICATORS
Children feel brave and confident to communicate more openly.
The Kindergarten certificates of comletion is by Vietnamese Ministry of Training and Education; as well as accredited by Western Australia, Departement of Education.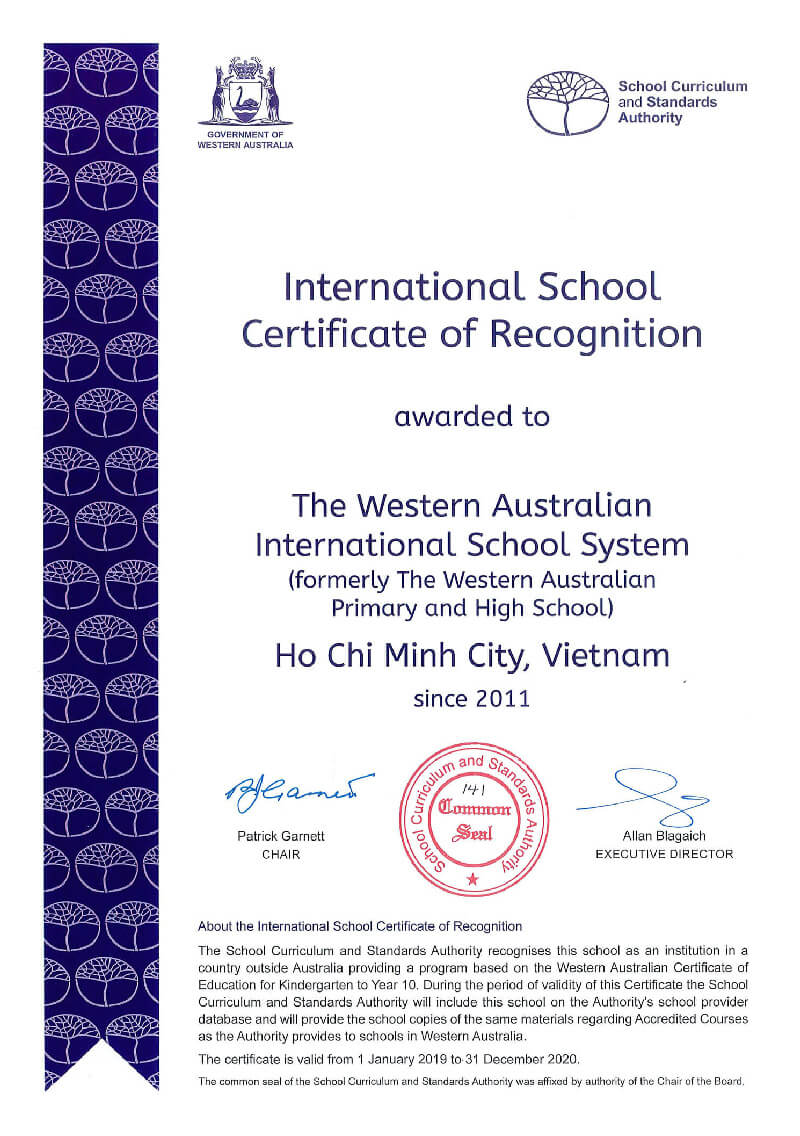 | VIETNAMESE PROGRAM | WESTERN AUSTRALIAN PROGRAM |
| --- | --- |
| Vietnamese linguistics | English |
| Mathematics | Math |
| Music and movement | Science |
| Physical development activities | |
| Social Science | |
| Skills | |
| Technology | |
| Emotion and Social Skill Development Program | |
School Bus
To facilitate transportation for students and shorten their time, the bus service is built based on safety criteria as well as optimizing the selection of routes.
School Meals
Various choices of foods, balanced meals ensure adequate nutrition for students to maintain their health and develop comprehensively.
Co-Curricular Activities
Students have an opportunity to build leadership and teamwork skills, discover themselves, and develop their own special abilities.
WESTERN AUSTRALIAN INTERNATIONAL SCHOOL
If you have any concerns, please contact us.