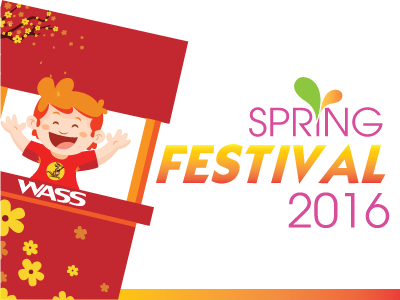 Discover Vietnamese Tet at the Spring Festival 2016


With the pending arrival of the year of the Monkey, everyone is very excited to prepare for New Year. All WASS members are also eager to begin designing and decorating their own colorful traditional stands for the Spring Festival 2016 which will be held on 29th January. This is a great time for our over 300 strong students, who come from 22 countries around the world, to experience the full taste of Vietnamese Tet at WASS.
Let's see what they are going enjoy this Spring Festival:
Lively performances by WASSers: the Western Australian International School System always encourages students to study the performance arts such as singing and dancing. Therefore, with the theme of the New Year, there will be lots of "fresh spring wind" performances by our talented WASSers
Colorful traditional and multi-cultural stands will be on display: Stands will be decorated with strong Vietnamese icons and symbols such as thatched roofs, apricots, cherry blossoms, and will feature specific dishes of each region to attract passing customers.
Tet is not just about the changing of the seasons in the Vietnamese calendar, it's also a time for family members to gather together, and celebrate traditional cultural beauty. The annual Spring Festival at WASS is not only an entertainment activity, but is also a time at WASS for students to remember and preserve traditional values of the nation. Moreover, it's an opportunity for international students to learn about the colorful and multi-cultural aspects of living here.
We cordiality invite parents and students to come over and enjoy the Spring Festival at WASS to get a feeling for the taste of the coming Vietnamese Tet.
Information about our Spring Festival 2016:
Time: 8.00h – 12.00h Friday, 29/01/2016
Location: The Western Australian School System – Primary, Middle and High School campus – 157 Ly Chinh Thang, Ward 7, District 3, Ho Chi Minh city
WESTERN AUSTRALIAN INTERNATIONAL SCHOOL
If you have any concerns, please contact us.