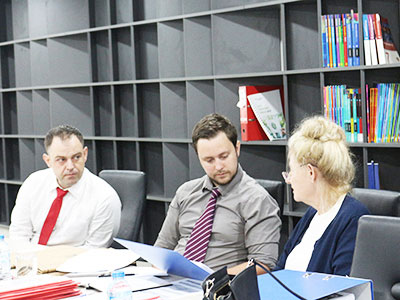 A delegation from the Western Australian School visited and worked with teachers of WASS
This school year 2017 – 2018, Ms.Gail – a representative from the Academic Council of Western Australia conducted her second visit to WASS.
Every year, the school supports the Western Australia School Curriculum and Standards Authority who came to do an annual inspection and evaluates the quality of education. The aim of their visit is to ensure that the WASS provides student a common environment that is good for studying.

Ms. Gail has cautiously inspected the quality of education of the school, including teacher's methodologies and school's pertinent materials last year. She also conducted training regarding strategies in teaching, interviewed some students and asked their hobbies and dreams. She also had some time to walked around the campus and reassured the quality of school meals and hygiene.
This year, Ms.Gail had her final visit in our school. She has finished her intensive inspection and done it systematically. The board would like to extend gratitude and acknowledgement to another successful audit of the Western Australian School for their support and cooperation.
WESTERN AUSTRALIAN INTERNATIONAL SCHOOL
If you have any concerns, please contact us.